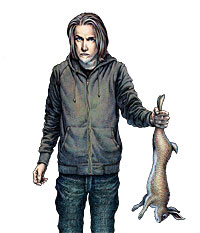 For people who can't wait until September 14th, there's an opportunity to watch the Amplified Gesture documentary a few days earlier.
On saturday September 5th, 2009 the documentary about David Sylvian's new album "Manofon" is shown at the Punkt Festival in Kristiansand, Norway.
On this major event for electronic music fans, they welcome people like Russell Mills, Sweet Billy Pilgrim, Arve Henriksen, Erik Honorè, Jan Bang, J Peter Schwalm and many many more.
Punkt is proud to present the world premiere of the documentary film "Amplified Gesture, an introduction to free improvisation: practitioners and their philosophy", chronicling the work on David Sylvian's new album "Manafon" and telling the stories of the profiled musicians who took part in its creation. This documentary is followed by Per Martinsen, Aggie Peterson and Sergey Suokas who will perform their original, electronic soundtrack for the Russian silent movie The Mother by Vsevolod Pudovkin, made in 1926.
Directed and edited by: Phil Hopkins. With: Otomo Yoshihide, Toshimaru Nakamura, Christian Fennesz, Keith Rowe, Eddie Prévost, Sachiko M., Evan Parker, John Tilbury, Werner Dafeldecker, Michael Moser and John Butcher.