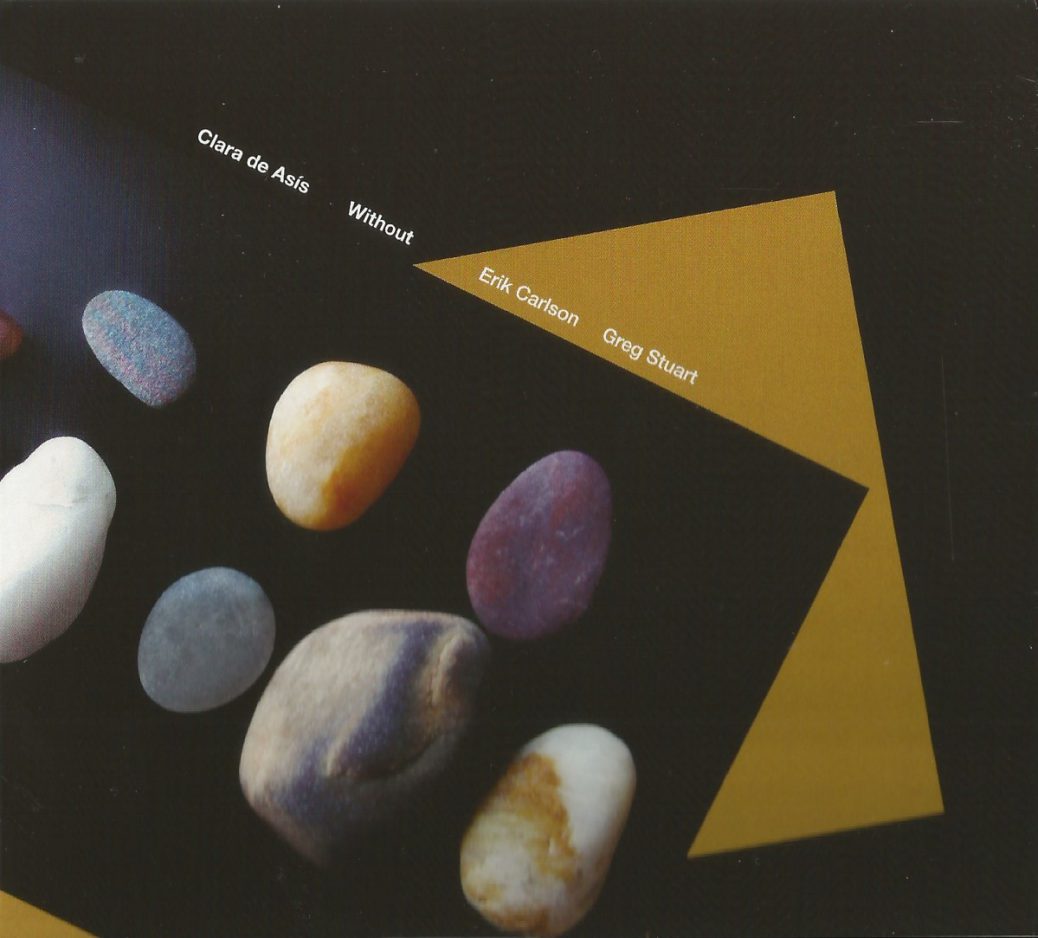 Released at October 10, 2018
David Sylvian provided the cover photo and inside photo for this release on Yuko Zama's elsewhere label.
Four panel gatefold wallet with one disc, photography by David Sylvian, design by Yuko Zama. Limited Edition of 500.
Tracklisting:
Clara de Asís – Without (2018) 43:10
Erik Carlson – violin
Greg Stuart – percussion
recorded by Erik Carlson and Greg Stuart at Conrad Prebys Music Center, UCSD, La Jolla, CA on July 9, 2018
mixed by Erik Carlson
cover photo and inside photo by David Sylvian
design by Yuko Zama
produced by Erik Carlson, Greg Stuart, and Yuko Zama
executive produced by Jon Abbey
from the release notes:
"Clara de Asís composed the piece 'Without' for the duo of Erik Carlson (violin) and Greg Stuart (percussion) in 2018. In this 43-minute piece, de Asís gave a precise framework for the position and the duration of each sound section and each silence, as well as a rough outline for the texture and the volume of each sound, the use of tone or noise (or tone-noise), and the materials for the percussion, but a large part of the score was open for the two performers' freedom.
In the realization of this piece, Carlson and Stuart brought out the unique voice of each instrument by applying various use of bows on violin and various percussive materials (metal, wood, ceramic, clay, glass, etc.) with their attentive, virtuosic skills and great sensitivities for the sound and silence. Moving along in parallel, Carlson and Stuart showed their individual musical personalities while creating an organic flow, with an exquisite balance between preciseness and openness. The duo's introspective approach to the sound and silence in this piece evokes the tranquility of a Zen garden while showing a clean contemporary edge, highlighting the simple yet intense beauty of de Asís's minimal composition. David Sylvian's cover photograph of the small stones, each of which has a unique color and texture, faintly illuminating in the pitch-black background, echoes the mysterious depth and the lucidity of de Asís's piece."
bandcamp
Gallery