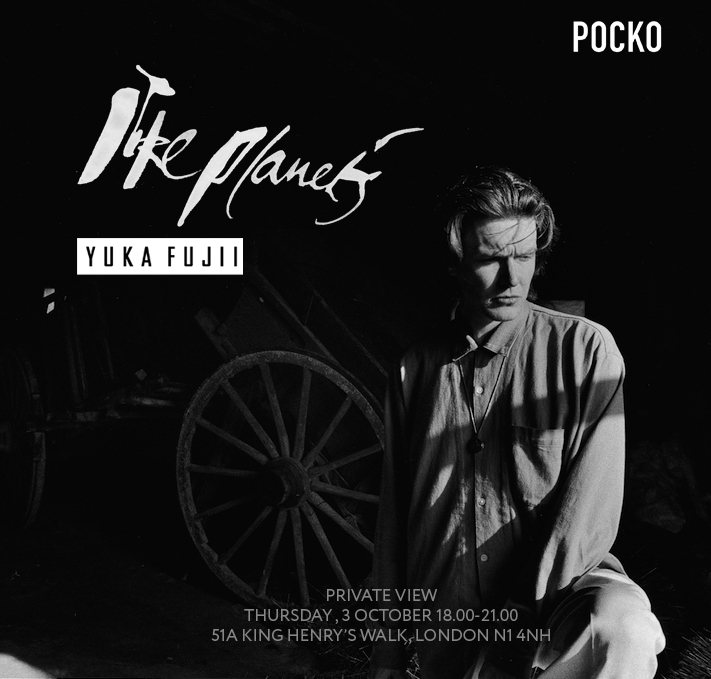 Published at October 3, 2019
An exhibition of prints from Yuka Fujii's book 'Like Planets' was held at POCKO gallery, 51A King Henry's Walk, London, N1 4NH from 3 October to 1 November 2019.
The opening coincided with the UK premiere of Yuka's film 'Like Planets [unreel]' at the nearby Cafe OTO. Yuka attended the private viewing which marked the opening on the evening of 3 October.
from the POCKO gallery website:
'Like Planets' by Yuka Fujii – Pocko Exhibition
Pocko presents 'Like Planets', a photographic essay by Yuka Fujii, 3th October until 1st November at Pocko Gallery.
'Like Planets' was published in the autumn of 2018, consisting of 5 chapters the book documents a seemingly quiet, intimate, existence in the company of her then partner, the artist, David Sylvian. Far from the world of popular music, the book reads like a visual poem of the time shared together.
Sylvian is depicted in hotel rooms, small villages, graveyards, landscapes rural, exotic, and forbidding, before finally reaching a point of change, of grace, in the darkened rooms of Konya and Istanbul.
Interspersed with poems and quotations, this is a tantalising and evocative glimpse of an intensely private life at a pivotal point in its evolution.
This exhibition celebrates the joint UK premiere of 'Like Planets' at Cafe OTO, featuring live music and a film of images and text taken from the book of the same name.
"…from well documented glamorous pop star to retiring spiritual aspirant. He no longer wished to be in the distorting existential glare of the spotlight and consequently set out on a personal journey of the interior, in search of what he believed to be the source of creative life; being the light derived from within…"
Yuka Fujii
Thank you to Renaud C Haslan and Mark Bourne for permission to include their photographs of the opening night. All exhibited images are copyright of Yuka Fujii.
Gallery
DAVID-008

Pocko gallery - online invitation

Pocko gallery online banner