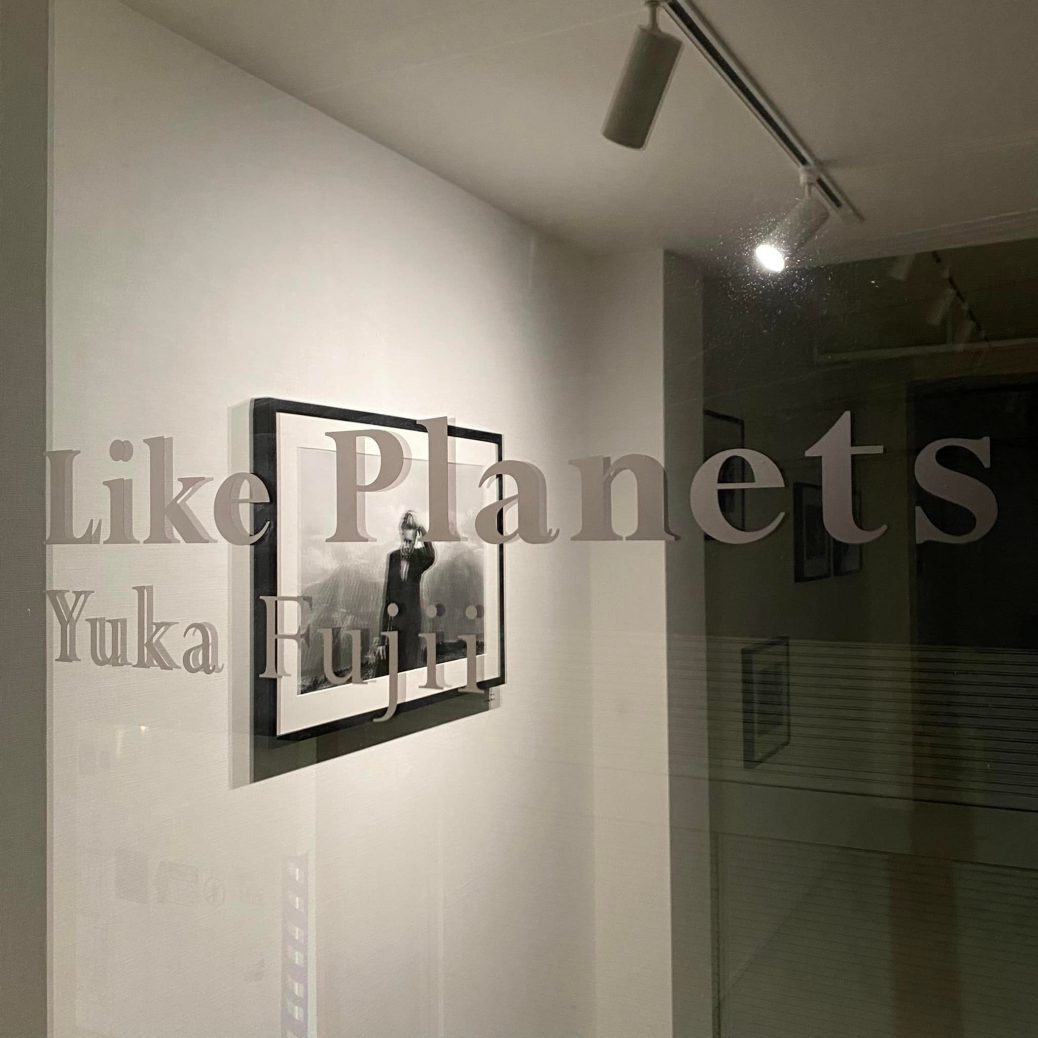 Published at April 14, 2022
Yuka Fujii's 'Like Planets' exhibition was staged in April/May 2022 at the Iwao Gallery, 2-1-27 Kuramae, Taito-ku, Tokyo (Mikuramae Street)
From the gallery website:
2022.4.14[thu]-5.1[sun]
thu, fri, sat, sun 12:00-19:00 (until 17:00 on the last day)
*closed on monday, tuesday, wednesday
Yuka Fujii 
photographer, curator and art director based in london, uk. she is a long-time creative partner of david sylvian and a founding member of his label samadhi sound (samadhisound.com)
In the autumn of 2018, Yuka Fujii's photo book "Like Planets" was published in the UK. The photographs documenting the quiet and intimate presence of artist David Sylvian, who was her partner at the time, seem to be a visual poem of the times shared together. In hotel rooms, small villages, cemeteries, vast wilderness, glimpses of his private space-time through her viewfinder.

Although we have been forced to postpone due to the corona disaster many times, we are pleased to present the first photo exhibition "Like Planets" in Japan.
Playlist created by Yuka Fujii for the book exhibition is playing inside the venue. Please listen to this.
It's hard to weave visuals into the beauty of David Sylvian's songs and sounds (I know because I've tried), but the photo book Like Planets, which contains beautiful photographs of Yuka Fujii, is something close to that and invites you into his soul.
Anton Corbyn (born in the Netherlands. Photographer, Music Video Director, Film Director)
---
Artist Statement
Like Planets is a document of artist David Sylvian's rapid transformation from a glamorous pop star to an investigator of the spiritual world in the early to late 1980s. He no longer wanted to be in the distorted dazzling light of the spotlight, but secretly set out in search of the "inner light" which he believed to be the source of his creative life. "It's a well of inspiration that never withers," he says. It was also a time when I was finally freed from external pressure, and had the opportunity to introspect myself by questioning moral conflicts and morals, and to reflect on what was most important to me.

I accompanied him on his spiritual journey, propelled by these feelings and thoughts, and in fact traveled a lot and visited many different places. I always carried a camera with me, so I was able to capture his isolated admiration, frustration, and introspection. He was sometimes irritated, but often indifferent.

His attitude to production was always sincere, and no matter how much time he spent creating, he would dismiss it without attachment if he was not satisfied, but it was put to good use as experimentation, experience, and learning, and the finished work was comprehensive. His work, without any compromise or inertia, is beautiful, and it has inspired me in his daily life as well.

The photo book of the same title is mainly portraits of David in various forms, but it is often symbolic and impressionistic with simple images that evoke quiet time and place. The short pauses that are taken again and again are the emptiness of long, shadowy days, and as a result, it suggests a journey through time and space that is connected beyond time. He and I are like planets around each other, and that gravitational relationship continues today.
Yuka Fujii
An additional statement from Yuka was published by the gallery:
'I feel the quality of these photographs have increased over time due to their being archived for nearly 40 years. I felt the grainy images recorded on TRY-X high-speed film were best suited for creating the material closest to my needs, my vision, at that period in time. There's little in the way of information surrounding the subject matter such as time, place, and environment. Being unencumbered by baggage enables one to travel light through space and time. Although the exhibition was postponed twice due to the pandemic, I'm happy to finally realize this exhibit in Japan. As I learned from past experiences working with David, when the project is launched, the positive energy of those involved in the production supports its existence and the space that welcomes the audience becomes a threshold for the soul's journey. There is "love" among people who weave bonds around the globe towards a "better world". When time and space come to a close, what you touch here may be your own or someone's fingertips. We exist in and outside of time. We are not of it. In the midst of this unraveling world crisis I'd like to pray for peace at this site where we'll meet.'
The following message was posted on the gallery's facebook page at the end of the exhibition:
The session has ended safely. Thank you to all our customers for coming. Thank you very much.

A message from Yuka Fujii:
'The Like Planets exhibition was able to successfully complete the 3-week journey with a lot of people participating. The space of love has transcended time, brought us meetings, reunions, and prayers from beyond. Thank you to everyone who created the beautiful constellation!'
May, 2022
Yuka Fujii
All images exhibited are copyright of Yuka Fujii.
———————————
Flowers were sent by Ryuichi Sakamoto and displayed at the gallery with the message: 'Congratulations Yuka. Hope that many people come and see your works.'
———————————
Thank you to the Iwao Gallery and Yuka Fujii for permission to share images of the exhibition on this site.
Gallery
Yuka Fujii at iwao gallery

flowers from Ryuichi Sakamoto