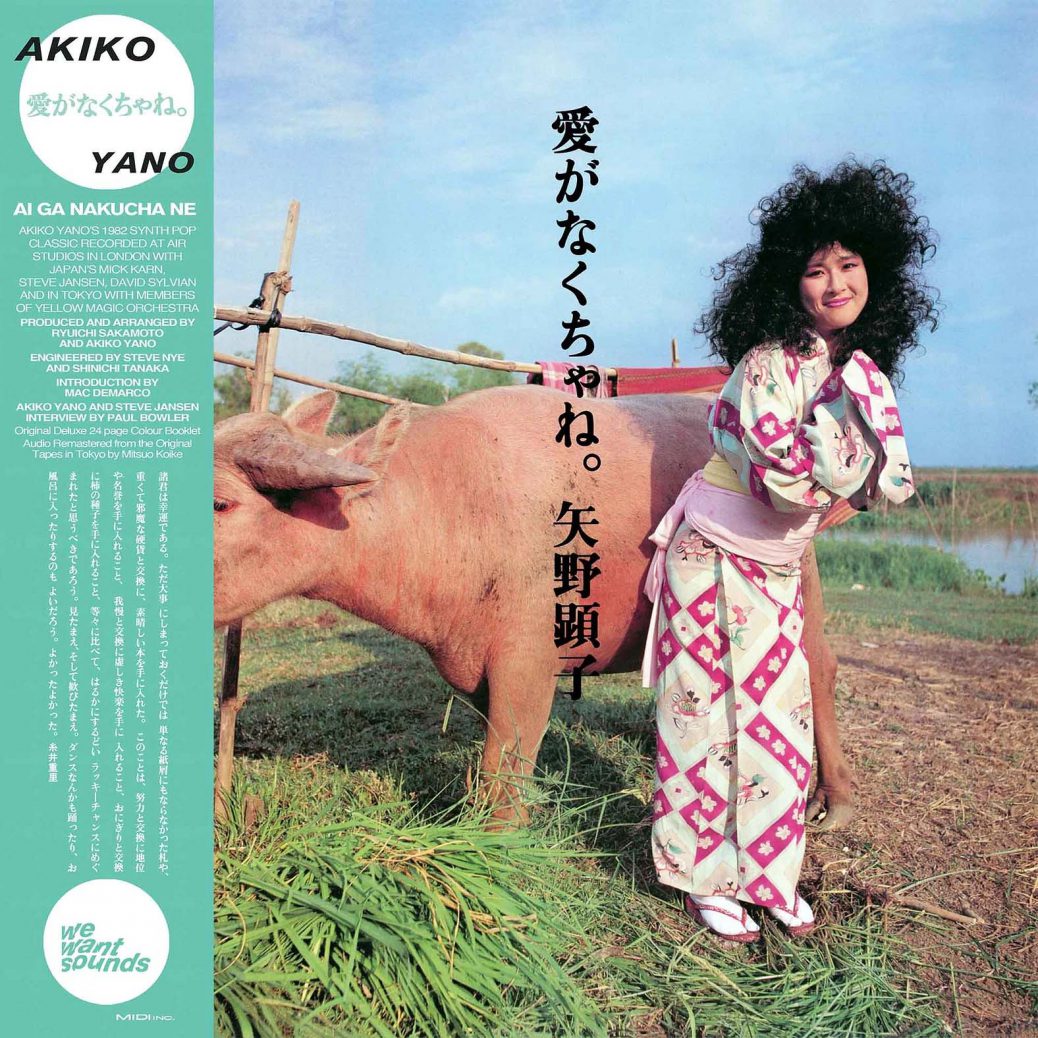 Released at October 8, 2021
© 1982 MIDI Inc.
© 1982 Yano Music Publishing Co. Ltd.
LP: Wewantsounds – WWSLP47
CD: Wewantsounds – WWSCD47
Akiko Yano's classic 1982 album, recorded in London with the group Japan and co-produced by Ryuichi Sakamoto was re-issued on vinyl and CD in 2021 on the Wewantsounds label.
There's a new introduction by Mac Demarco, an interview with Akiko Yano and Steve Jansen.
The LP is presented in a deluxe gatefold sleeve with a 24-page colour booklet.
'Ai Ga Nakucha Ne' ('there must be love' in Japanese) is Akiko Yano's 6th album following 1981's 'Tadaima', and continues its predecessors exploration of electro-pop. For this album, Akiko enrolled musicians Mick Karn, Steve Jansen and David Sylvian from the band Japan, booked Air Studios in London and engaged engineer Steve Nye. The result is a fascinating soundscape full of catchy pop tunes, sung in both Japanese and English. The eleven tracks featured on "Ai Ga Nakucha Ne," mostly composed by Akiko, feature her distinctive vocals with the UK band Japan providing all music.
There are many highlights on the album, from the pop edge of "Aisuru Hito Yo" to the avant groove of "Another Wedding Song". The album closes out with the superb "Good Night" sung by both Akiko and David Sylvian.
The original 1982 LP release included a 24-page booklet featuring many photos by Pennie Smith and Japanese photographer Bishin Jumonji. The booklet is reproduced in its entirety here. There are also contributions by Mac DeMarco, a long-time fan of the album, Akiko herself and Steve Jansen making this release of 'Ai Ga Nakucha Ne' a unique testament to Akiko Yano's greatness.
The CD release has a 4 pane gatefold inlay featuring the interview with Akiko and Steve Jansen. Tracklist is equal to the vinyl album.
Tracklist (vinyl)
Side A
1. Ai Ga Nakucha Ne
2. Kanashikute Yarikirenai
3. What's Got In Your Eyes
4. Oishii Seikatsu
5. Michi De Battari
SideB
1. Onnatachiyo Otokotachiyo
2. Aisuru Hito Yo
3. Sleep On My Baby
4. Another Wedding Song
5. Donnatokimo Donnatokimo Donnatokimo
6. Good Night
Produced and arranged by Ryuichi Sakamoto and Akiko Yano.
2021 edition:
Remastering: Mitsuo Koike (AST Mastering)
Fun fact: on the CD is printed STEREO 33 1/3 R.P.M.
Gallery
Akiko Yano - Ai Ga Nakucha Ne vinyl cover with obi

Akiko Yano - Ai Ga Nakucha Ne vinyl side 1

Akiko Yano - Ai Ga Nakucha Ne vinyl side 2

Akiko Yano - Ai Ga Nakucha Ne vinyl obi

Akiko Yano - Ai Ga Nakucha Ne vinyl cover inside

Akiko Yano - Ai Ga Nakucha Ne CD package

Akiko Yano - Ai Ga Nakucha Ne CD front

Akiko Yano - Ai Ga Nakucha Ne disc

Akiko Yano - Ai Ga Nakucha Ne CD back

Akiko Yano - Ai Ga Nakucha Ne CD inner disc tray

Akiko Yano - Ai Ga Nakucha Ne CD inner 4-panel inlay

Akiko Yano - Ai Ga Nakucha Ne CD outer 4-panel inlay
Tracklist
Booklet