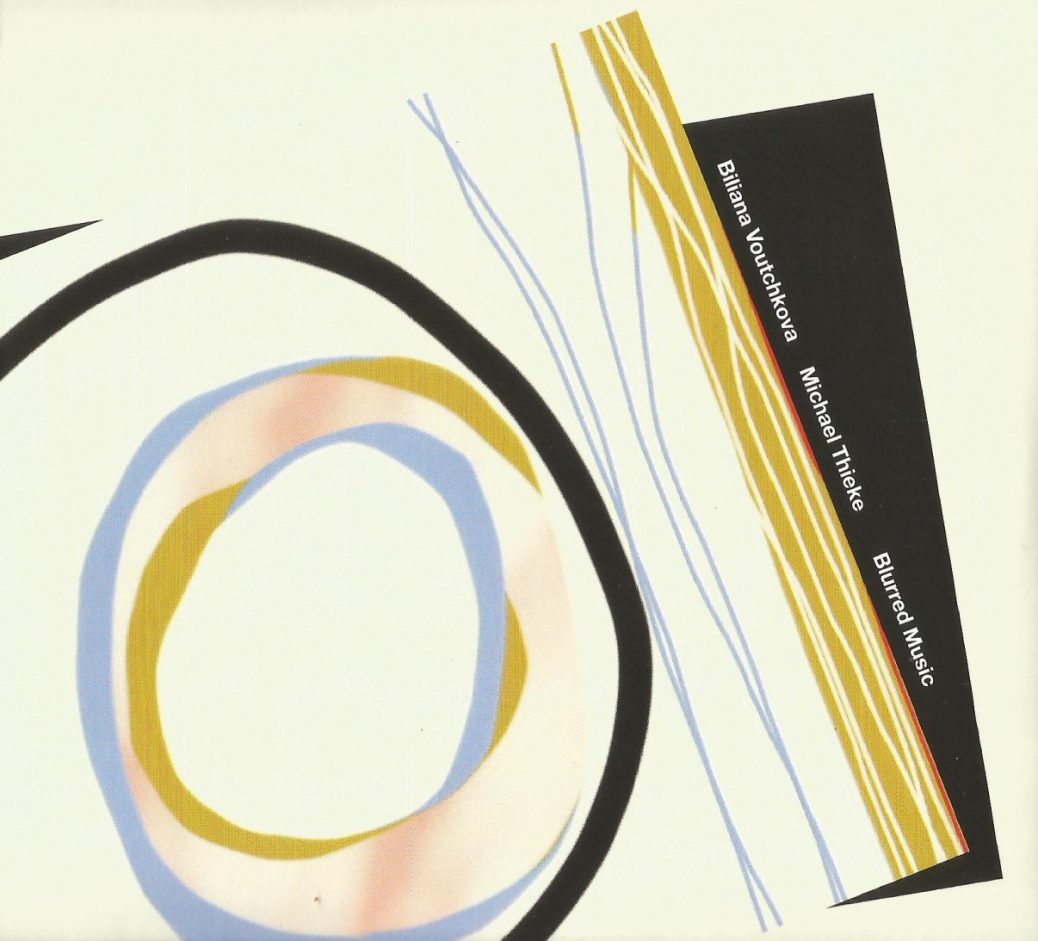 Released at July 14, 2018
David Sylvian provided artworks for this debut release of Yuko Zama's elsewhere label.
The album was produced by David Sylvian and Yuko Zama.
6-Panel gatefold wallet, artworks by David Sylvian, design by Yuko Zama. Limited Edition of 500.
Three cd set:
Chicago (50:18)
recorded live on December 7, 2016 at Carr Chapel, Chicago
Philadelphia (40:09)
recorded live on December 14, 2016 at Aux Performance Space, Philadelphia
New York (1:09:59)
recorded live on December 15, 2016 at Experimental Intermedia, NYC
all compositions by Biliana Voutchkova and Michael Thieke
Biliana Voutchkova – violin/voice
Michael Thieke – clarinet
recorded live by Michael Thieke
mixed and mastered by Taku Unami
artworks by David Sylvian
design by Yuko Zama
liner notes by Michael Thieke and Biliana Voutchkova
produced by David Sylvian and Yuko Zama
executive produced by Jon Abbey
from the release announcement:
"The Berlin-based Bulgarian violinist Biliana Voutchkova and German clarinetist Michael Thieke have worked together intensely within both compositional and improvisational duo and group projects in Berlin since 2011.
In their current project "Blurred Music", the duo works with musical structures that create a blur; improvised parts alternate with fields of pre-structured material in which digital recordings of the duo are duplicated by live performance. Virtually identical fragments of the live performance synchronize simultaneously with the playback, unavoidably giving rise to blur in the temporal dimension, in the rhythmic, timbral, and motivic variations, and in the microtonal interpretation of individual pitches. The live portion of the duplicated material is still improvised, but within a framework purposefully restricted by the pre-recorded material, the intervals between which are indeterminate. To the listener's perception, what is being composed in real time blurs into what has been structured in advance; the difference can be registered only after an interval, if at all.
The triple CD 'Blurred Music' features three of the duo's live performances, recorded in Chicago, Philadelphia and New York during their USA tour in December 2016. These three live recordings are all very differently structured, factoring in the conditions and the atmosphere of each venue as well as the musicians' own perspective and mindset. This series of three concerts, all occurring within a nine day period, showcase the very wide range of this duo, so all three recordings combine to form a saga of their peak. Using their highly trained virtuosic skills and intense concentration, the duo carefully deconstructs the conventional tones of instruments into fine particles in an organic flow, to create a completely new world of music on their own, somewhere between tonality and atonality, and will hopefully be recognized as one of the most mature accomplishments of improvisational/compositional works of this era."
Yuko Zama, facebook, June 2018, on the first two elsewhere releases:
"I would like to express my deep thanks to: all the musicians on these two albums for their great music, Taku Unami, for his brilliant mixing/mastering with his deep commitment to both projects with a willingness to go one step further to pursue the perfection. David Sylvian, for his beautiful artworks on the covers and constant support/artistic input as a co-producer, whose keen eyes for design, great ears for music, honest words and deep heart for record production were enormously encouraging. Last but not least, Jon Abbey, for motivating me to start my own label and for his valuable advice from his 20 years experience as a record producer. And thanks to all of them for their patience to keep up with my craziness all the way through. (Now I can finally have a good sound sleep…)
– Yuko Zama"
from Yuko Zama interview for Musique Machine, June 2019:
"The idea of launching my own label 'elsewhere' came into shape very quickly actually – in a week or so – when we received a release proposal from David Sylvian last January, of the three live recordings of Biliana Voutchkova/Michael Thieke 'Blurred Music', who hoped we might be interested in putting it out on Erstwhile. I loved the recordings and hoped that we could put it out on ErstClass, but it was not really the kind of music Jon [Abbey] would pursue on Erstwhile. After a week-long discussion with Jon about the possibility of the release, he came up with an idea that perhaps I should start my own label to put it out if it was really important to me. I was excited with the idea and came up with the label name "elsewhere" immediately, making the red logo design overnight. It was so thrilling for me to know that I can decide every detail of the label by myself."
"As for the actual artwork, David Sylvian (who was also a co-producer for elsewhere 001) kindly offered me some of his early digital colour drawings for the first two covers and for later releases, which I loved instantly. David has a keen eye for art, and I found a genuine beauty with a sense of cloudless innocence in his choice of colours and compositions, which were exactly what I was hoping to have for my elsewhere cover design. From the very start of my label, David's advice has been a tremendous help for me to make design decisions as well as mixing decisions, so I feel I owe him so much. Some of the future elsewhere releases will have his other artworks or photographs again while other titles may have the respective musicians' artworks or something I might make or find myself among my favourite artists' works."
bandcamp
Gallery