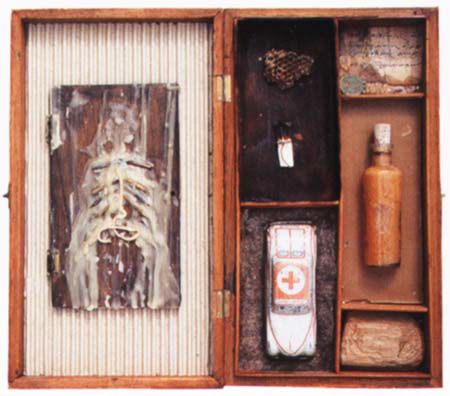 Published at September 28, 1994
David Sylvian – Intensive Care (For J.B.) mixed media box collage (35cm x 40.5cm)
Brian Eno, a patron of the British charity War Child, recently asked friends in the music business for their support. An art exhibition was held, displaying work by Bowie, David Byrne, and none other than David Sylvian and Ingrid Chavez. According to Anthony, Sylvian's effort was "childlike and charming and his wife's piece modest but excellent" All of the works were up for sale at auction.
Other participating artists: David Bowie, Bryan Ferry, Russell Mills, Iggy Pop, Charlie Watts,…… It was sold for app. 700 UKP.
The exhibition entitled 'little pieces from big stars' was held at Flowers East Gallery, 282 Richmond Road, Hackney, London E8 from 28 September to 9 October 1994. The auction was held on 4 October at the Henry Moore Gallery, Royal College of Art, Kensington Gore, London SW7.
Gallery
Auction catalogue for 'little pieces from big stars', cover art by David Bowie