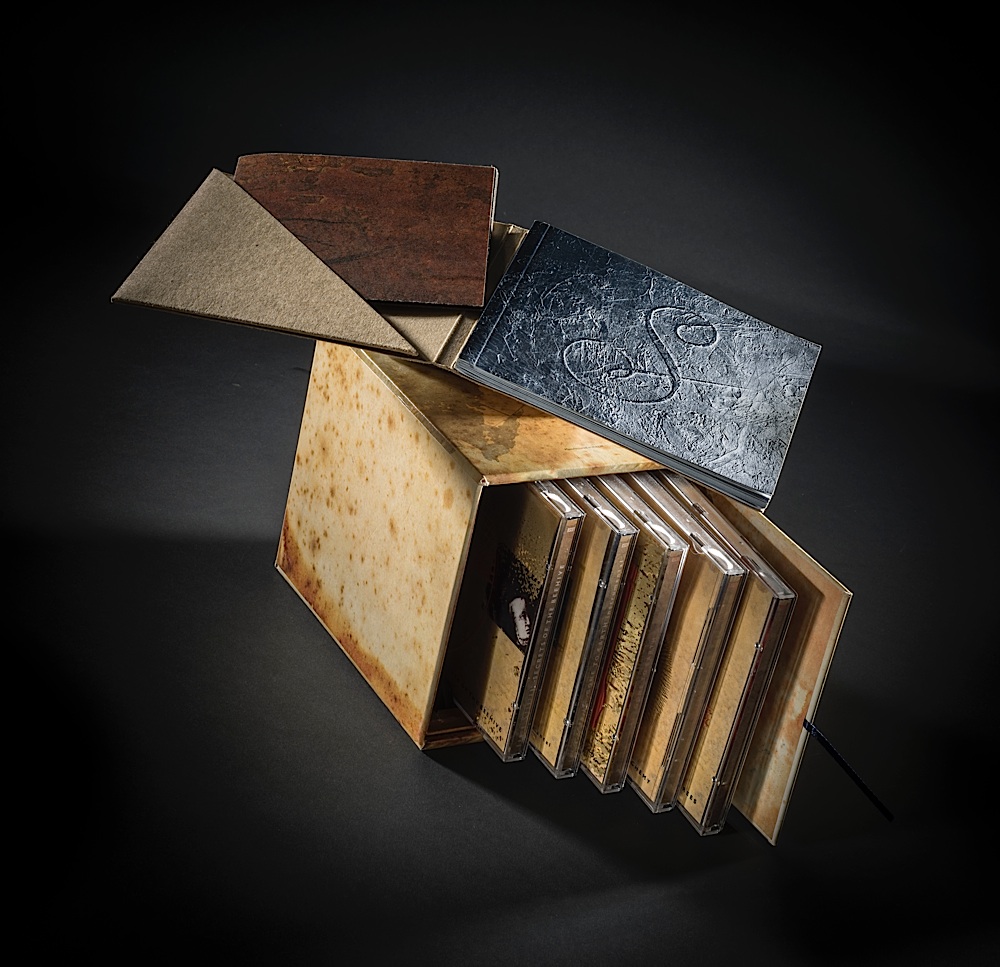 Released at November 20, 1989
Barcode (Text): 5 0112981 000134
Barcode (Scanned): 50112981000134
Matrix / Runout (CD 1): DSCD 1/1 ⋅ MASTERED BY NIMBUS
Matrix / Runout (CD 2): DSCD 1/2 ⋅ MASTERED BY NIMBUS
Matrix / Runout (CD 3): DSCD 1/3 ⋅ MASTERED BY NIMBUS
Matrix / Runout (CD 4): DSCD 1/4 : MASTERED BY NIMBUS
Matrix / Runout (CD 5): DSCD 1/5 ⋅ MASTERED BY NIMBUS
One of the major collector's items available. The box itself is a piece of art (design by Russell Mills) and as a 5 CD retrospective it's the ultimate object on the mantelpiece of the David Sylvian collector. Each CD has a new artwork inlay, combined with printed artwork on the jewel-case itself, which gives a complete new image. The box includes a 60 page embossed booklet and a fold-out catalogue poster.
Besides the CD's, there's a poster and a booklet with credits and liner notes. The 5 CD's are: Brilliant Trees, Alchemy (Words With the Shaman, The Stigma Of Childhood (Kin), A Brief Conversation Ending In Divorce and Steel Cathedrals), Gone To Earth, Gone To Earth instrumental and Secrets Of The Beehive (without Forbidden Colours or Promise). Notice the missing of Pop Song.
Thank you to russellmills.com for some of the images on the gallery.
Each cd is themed with an element:
Brilliant trees (Tree)
Gone To Earth (Earth)
Gone To Earth instrumental  (Water)
Secrets Of The Beehive (Light)
Alchemy – An Index Of Possibilities (Stone)
The Japanese Weatherbox box came with an additional 54 page booklet. The covers can be folded-out. This is a typical Japanese style book; all lyrics printed in Japanese and English with additional liner-notes and a lot of photos included from artwork of Russell Mills. Scattered all over the booklet there are images from Mills' paintings, with collage inserts and even a simulated burn hole in the rear inner! Additional photography of David is by Alistar Thain. Art direction and design of the book is by Shinro Ohtake and Katsuhiro Kinoshita. Great book and a must-have for the completist!
Contents of Alchemy:
"Words With The Shaman" recorded in London 1985.
"The Stigma Of Childhood (Kin)" is an excerpt from the score of "Kin", a show devised by Gaby Agis and Kate Blacker, premiered at the Almeida Theatre, London, 8th September 1987.
"A Brief Conversation Ending In Divorce" recorded in London, June 1989. Originally cut at the Townhouse, re-mastered at Tape.
"Steel Cathedrals" is the soundtrack to the short film by David Sylvian and Yasuyuki Yamaguchi, recorded in Tokyo & London 1984/85.
Note: one track from the original Alchemy is MISSING: "Preparations For A Journey". So if you want the complete Alchemy, you have to buy the original CD-release. Two tracks here are from the B-side of the "Pop Song" maxi single, but these tracks do not not quite match the rest of the material.
AVOID the later remaster series while they are awful in sound quality: boosted, overcompressed and lacking the original transient details
Gallery
Weatherbox set - russellmills.com

Weatherbox booklet - russellmills.com

Weatherbox booklet front - russellmills.com

Weatherbox booklet front - russellmills.com

Weatherbox set - russellmills.com

Brilliant Trees front with case art

Alchemy front with case art

Gone to Earth with case art

Gone to Earth instrumental with case art

Gone to Earth instrumental front

Gone to Earth instrumental back

Gone to Earth instrumental inner

Secrets of the Beehive with cover art

Secrets of the Beehive front

Secrets of the Beehive back

Secrets of the Beehive inner

Wearherbox booklet with slipcase

Fold-out poster front - russellmills.com

Fold-out poster back - russellmills.com

Weatherbox Japanese booklet front

Weatherbox Japanese booklet back

Weatherbox Japanese booklet back inner

Weatherbox Japanese booklet inner