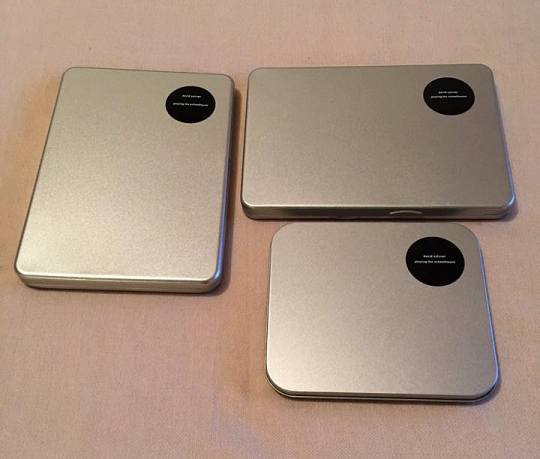 Released at October 10, 2015
Confront collectors series ccs 51 and ccs 51.2
Playing The Schoolhouse, a new CD EP length composition by David Sylvian recorded in March 2015 in Norway. Based on an improvisation by Jan Bang and Sylvian. It also features contributions from Otomo Yoshihide and Toshimaru Nakamura.
Housed in an attractive CD size metal case with PVC jacket. Black label stickers front and back.
Personnel
David Sylvian : found objects, samples, additional field recordings.
Jan Bang : found objects, dictaphone.
Composed and produced by David Sylvian.
Confront is a small bespoke label, that specialise in small run editions. David has been a long time admirer of what we do and the way we do it – and a loyal customer too – as well as a contemporary of a number of the artists on our roster. I asked David to write a 'single' for the label and he presented me with the 15min 'playing the schoolhouse'. (MARK WASTELL)
mark's approach to running his label is one I admire. along with numerous other labels i could mention, this is a one man operation and a labour of love. he brings to light work which might otherwise never be heard. others do the same and, in my opinion, deserve support. It's wonderful that so many have shown an interest in this piece that lies so far from the songwriting most seem to hunger for. I'm grateful for that. (DAVID SYLVIAN)
There are two official releases:
Confront collectors series ccs 51. First limited Edition : 300 units Released 10th October 2015
Confront collectors series ccs 51.2. Second regular  Edition : 1000 units Released 16th December 2015
But actually there are 3 different formats:
First edition: see picture 1 (left),2,3 . It comes in a tall case with a postcard (pictures 8, 9) and a black disc
Second edition V1: pictures 1 (right-top),4, 5. Same case with a big black (credits) sticker on it and a different plastic CD-holder and a transparent disc
Second edition V2: pictures 1 (right-bottom),6, 7. Small cubic case with same cd-holder and transparent disc as in V1.
Many thanks to Sven Jacobs for the information
Gallery
Playing The Schoolhouse - different packaging

Playing The Schoolhouse - inlay back
Tracklist