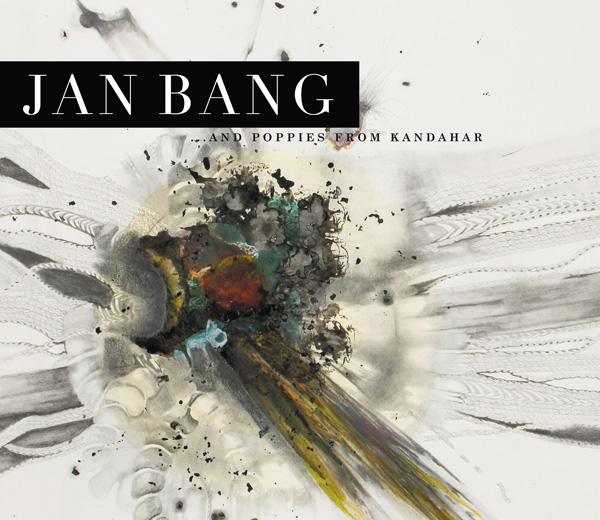 Released at May 24, 2010
P & C 2010 samadhisound llc.
Released on Samadhi Sound and not only did David the art direction for this great album, but he also made up the title of the album *and* all the titles of the tracks….. hmmm.
CD released by Samadhisound (sound-cd ss018) on 24.05.10.
The Drug Mule
Composed by Bang
Jan Bang: Samples, Programming
Samples:
Jon S. Lunde: Exhaust Fan
Muta: Percussion
Contains elements of Daylight Black as performed by Muta
Composed by Rombol / Davies / Zach. Courtesy of Sofa Music
Provided by Ingar Zach. Used by kind permission
Self Injury
Composed by Bang / Henriksen
Jan Bang: Samples, Programming
Lars Danielsson: Double Bass
Samples:
Lykke B. Bang: Voice, Bottles
Arve Henriksen: Trumpet, Voice
Peter Tornquist: Orchestra
Eivind Aarset: Guitar
Trumpet and voice recorded live at concert in Justinuskirche, Frankfurt 09
The Midwifes Dilemma
Composed by Bang / Endresen
Jan Bang: Samples, MPC, Claps
Sidsel Endresen: Vocal
Samples:
Eivind Aarset: Guitar
Passport Control
Composed by Bang / Hassell / Henriksen
Jan Bang: Samples, MPC
Eivind Aarset: Guitar
Samples:
Jon Hassell: Trumpet
Arve Henriksen: Trumpet
Kammerflimmer Kollektief: Loops
gi Szalki: Voice
Contains elements of Gammler, Zen & Hohe Berge by Kammerflimmer Kollektief
Provided by Thomas Weber. Used by kind permission
Who Grooms The Child ?
Composed by Bang /Aarset
Jan Bang: Samples, Programming
Eivind Aarset: Guitars
Samples:
Jon S. Lunde: Exhaust Fan
Rolf-Erik Nystrm: Sax
Heideggers Silence
Composed by Jan Bang from the music of Richard Wagner
Jan Bang: Samples, Percussion, Programming
Samples:
Pl Strangefruit Nyhus: Turntables
Vytas Sondeckis: Liepaja Symphony Orchestra
Eivind Aarset: Guitar
Abdication And Coronation
Composed by Bang / Honoré / Molvr from the music of Robert Schumann
Jan Bang: Samples:
Erik Honoré: Synthesizer, Programming, Field Recording
Nils Petter Molvaer: Trumpet
Suicide Bomber
Composed by Bang
Jan Bang: Samples, Synthesizer
Taking Life
Composed by Bang / Henriksen
Jan Bang: Samples, Synthesizer, Dictaphone, Percussion, Field Recording
Arve Henriksen: Trumpet
Samples: Anne Marie Almedal: Voice
Voice sample taken from Death Restored composed by
Almedal / Bang / Honoré / Moe-Repstad. Used by permission.
Ululations
Composed by Bang
Jan Bang: Samples
Samples:
Jon Hassell: Trumpet
Arve Henriksen: Soft Synth
gi Szalki: Voice
Exile From Paradise
Composed by Bang/Hassell /Endresen
Jan Bang: Samples
Jon Hassell: Trumpet
Erik Honoré: Live Sampling
Peter Freeman: Bass, Electronics
Samples:
Sidsel Endresen: Voice
Produced by Jan Bang
Titles: David Sylvian
Art direction: David Sylvian
Design: Chris Bigg
Artwork: Denise Schatz (www.deniseschatz.net)
Supported by Fond for Utvende Kunstnere and Lyd og Bilde
Mastered at Audio Virus LAB, Oslo by Helge Sten
Jan Bang is represented by Kjell Kalleklev
Special thanks to: Arne Chr. Bang, John Cumming, Erik Honoré, Kjell Kalleklev, Pl Strangefruit Nyhus, Beate Schler, Vytas Sondeckis, David Sylvian, Fiona Talkington
We can read on The Prague Post
Several of the tracks on …And Poppies From Kandahar, like "Drug Mule" and "Exile From Paradise," have a distinctly Middle Eastern feel in keeping with the title's reference to Afghanistan. A definite sense of place – in philosophical and emotional rather than geographic terms – is conjured throughout the album by the music as well as the track titles and Endresen's vocals. Producer and composer David Sylvian also collaborated on the album, writing the title of each track and of the album itself. Asked whether the sound of the album influenced Sylvian's choices of titles or vice versa, Bang again refers to the fluidity of his working method, as well as to the famous collaborations between John Cage and Merce Cunningham, saying the key element of successful collaboration comes from "letting go."
"What David came up with worked really well, and I wanted to continue that path. The idea is not so different from the way Cage and Cunningham worked, where they wrote the music and dance separately. It's not a one-to-one way of working, but the point is for the different disciplines to work separately without one being a comment on the other," he says.
For a sound artist like Bang, the possibilities on each track seem limitless, but therein lies the difficulty. The composer utilizes live sampling in his performances, wherein he records and mixes musical phrases from the other musicians onstage and replays them almost immediately in new contexts. Such spontaneity is nearly impossible to recreate in the studio, but Bang says he always allows his instincts to guide him.
The track exile from paradise / undertow for listening and download is made available by SamadhiSound on Soundcloud.com
A beautiful live recording taken from last year's Punkt festival featuring a remarkable line up of musicians
(bang/ endresen/hassell)
jan bang: samples
lars danielsson: double bass
sidsel endresen: vocals
jon hassell: trumpet, keyboards
arve henriksen: trumpet
erik honoré: live sampling
recorded by geir stensj at punkt, september, 2010.
mixed by erik honoré and jan bang at punkt studio kristiansand.
From samadhisound:
Acclaimed producer and Punkt Festival co-founder releases expansive, lush production featuring Jon Hassell, Nils Petter Molvr, Arve Henriksen, and Sidsel Endresen
And Poppies From Kandahar, Jan Bangs first album under his own name, evokes a powerful sense of place but its not a place you would recognize, or ever expect to find. A descendent of Jon Hassells fourth world concept, it sketches scenes of struggle and malice, in locales both primitive and urbane.  As a producer, Bang stitches it together like a patchwork atlas and then makes the seams disappear: live recordings and studio constructions, old samples and new solos come together to form an exquisite whole.
Bang recruits a cast of collaborators from Norway and beyond, who will be familiar to anyone whos followed his recent productions: trumpeter and vocalist Arve Henriksen, whose albums Cartography and Chiaroscuro were co-produced by Bang; the stunning vocalist Sidsel Endresen, whose  aptivating turn on The Midwifes Dilemma grows out of a moan and a half-croak; and samadhisound founder David Sylvian, who wrote the titles for each piece and the album as a whole, setting these abstract scenes in a disruptive context.
This is music of the world, but its rooted in Kristiansand, Norway, Bangs home and workplace. His musical career began in the late 80s, when he cut his first albums in a synth-and-vocals duo with Erik Honoré.  By the 90s he was a producer of Norwegian pop acts, when pianist Bugge Wesseltoft invited him on stage with an improvising ensemble. I had the idea of using musicians as input to my sampler instead of vinyl, recalls Bang. We called it live sampling. I found it appealing to work in a live situation with improvised music where things change at the blink of an eye I was able to work in past, present and future, according to what the other musicians were doing and how they reacted to what I was throwing back into the mix.
Bang started writing the material for And Poppies From Kandahar in January 2009.  As I often do, I started working on instrumentals which I then presented to the musician that I thought might benefit the track not unlike the process of making the Cartography album with Arve. I knew I wanted to write music that had references to my influences, but where I could use my own dialect. I wanted to work with both composition and improvisation on an equal level using contrasting forms, different dimensions, randomness, parallel directions which werent necessarily meant to express anything specific other than to work within the frame of the piece itself.
The sounds on And Poppies From Kandahar come from the studio and the stage, close-micd instruments and field recordings, the clank of a bottle and the grandeur of an orchestra. Says Bang, As a samplist I collect sounds that may become useful in other situations. Its much like collecting sand shells without knowing how to use them just keeping them because of their pure beauty.
The result transcends idiom or genre. A sample of guitarist Eivind Aarset clicks over humble handclaps on The Midwifes Dilemma; trumpeter Nils Petter Molvr solos over a melody by Robert Schumann. Self Injury is a hybrid of live and studio tapes, where upright bass casts a pall over Arve Henriksens monastic falsetto.  And Passport Control excerpts Gammler Zen + Hohe Berge by Germanys Kammerflimmer Kollektief, marrying its urgent tempo to wary brass.
The conclusion, Exile from Paradise, is a performance of Sidsel Endresens Undertow that was taped at Punkt Festival 2008 and that features Jon Hassell on trumpet. To me, Jon is one of the most important philosophers of our time. I can hear his influence in a lot of peoples work, including my own. Hassells solo, sweeping and pacifistic, blesses an unforgettable journey across borders and eras, from the fictional to the indescribable.
Gallery