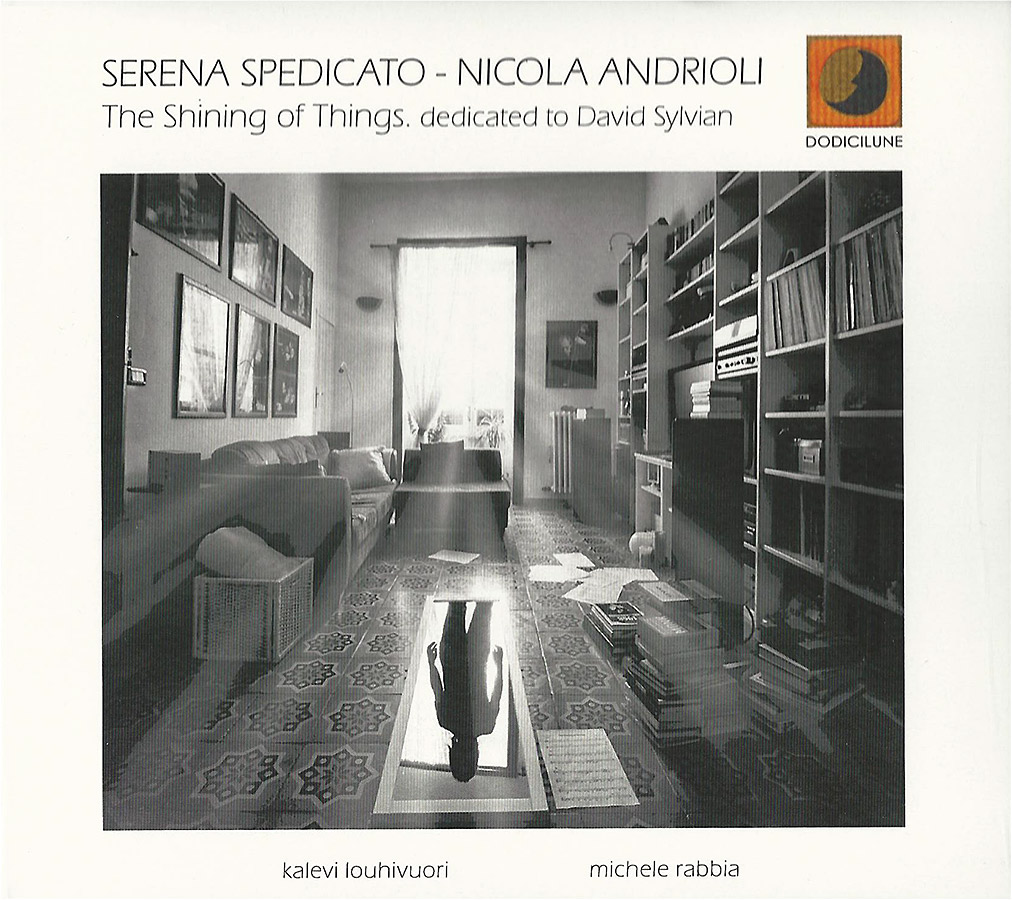 Released at July 20, 2019
CD DODICILUNO DISCHI Ed425
LP DODICILUNO DISCHI Ed439
CD release 20-07-2019
LP release 16-04-2020
"The Shining of Things. Dedicated to David Sylvian" is the new recording project signed by vocalist Serena Spedicato and pianist Nicola Andrioli. 8 tracks from David Sylvian are being performed.
Last year released as a CD and now in April 2020 also released on  limited edition vinyl (300 copies)!
Born from the desire to interpret and develop a songbook of the most important cameos of the vast artistic production of David Sylvian, musician, composer and writer of experimental, intimate and sophisticated music. Mixed with jazz from the minimal to the most cultured, and with cutting-edge rock. An extraordinary vocalist with an original, impeccable timbre, warm and deep, at times almost intangible and floating through the air. The interweaving of dialect and creativity of the record is entrusted to the elegant voice of Italian singer Serena Spedicato, to the skilled and refined piano-playing of Nicola Andrioli, originally from Italy but living in Belgium since many years, and is also the writer of the original arrangements written specifically for this production. And, on the Cd, to the sought-after Scandinavian trumpeter Kalevi Louhivuori and to the profound, poetic depth of percussionist Michele Rabbia."
Tracklist
Orpheus
Forbidden Colours
Weathered Wall
Heartbeat
Brilliant Trees
Laughter and Forgetting
September
The Shining of Things
All compositions by David Sylvian except:
2 by Ryuichi Sakamoto;
3, 5 by Jon Hassel, David Sylvian
4. 8 by Ryuichi Sakamoto. David Sylvian.
All lyrics by David Sylvian
Personel
Serena Spedicato: Vocals
Nicola Andrioli: Piano, original arrangements
Kalevi Louhivuori: Trumpet, flugelhorn, electronics
Michele Rabbia: Drums, percussions, electronics
Produced by Dodicilune edizioni, ltaly
Label manager Maurizio Bizzochetti (wwwdodicilune.it).
Recorded 22, 23, 24 February 2019 at Artesuono, Cavalicco (Ud), ltaly
Mixed and mastered May 2019 at Artesuono, Cavalicco (Ud), ltaly
Sound engineer Stefano Amerio.
Cover photo © Giacomo Rosato.
Photos by Maurizio Bizzochetti.
Notes
"A song is a place in the heart. It is also a story, a vision, a message that must touch the soul and the mind. A natural, healthy food that is poetic and vital, of which we should nourish ourselves ever more often in order to rediscover those thin strands which connect our existence, which keep our memories alive and by which we rediscover lost harmonies. Music's history is permeated with extraordinary songs, from Monteverdi to the Beatles, from Handel to Ellington, from Bacharach to Battisti. Songs upon which many generations have been formed at both a human and cultural level. l've wondered about this many times if it's right, to use the word "poetry" and the answer has been that in some cases it would be more than appropriate, without it shattering any sanctity of the label. In fact, not only lines written in a diary, a traveljournal, unsent letters are perfectly given back by their author in the size of the song, and there is more. By means of the multi-dimensionality of the vocal timbre and melodie design, the sound chromatics, the rhythmic diagram, a door opening into the songwriter's private space which we find populated with figured and obJects, allegories and legends, an imaginary topography which integrates several listening and listening plans which often the written word tends to hide in an indecipherably hieroglyphic. Among the many private spaces revealed, 1 believe there is one particular one, a path bursting with uniqueness and beauty placed in the land of Albion, where the relationship between poetry and song frees itself of tight boundaries. Here more than elsewhere, if you walk back down this viaticum, strong signs of this expressiveness flower up, like a flourishing and mysterious botanical garden, often portrayed metaphorically in various vinyl album covers. Actually if I think about Nick Drake, Pete Sinfield, David Bowie, Peter Hammill, Peter Gabriel, Robert Wyatt just to name a few, some of them have contributed to establishing a downright genealogy of the sound poetry of which I speak. David Sylvian, in this cenacle, carved out a peculiar space for himself, with a rich legacy un humus of various materials which he himself holds on his bureau: photographs, electronic experiments, the Hyper graphics, in short, a living multimedia. Obviously we are talking about from an esthetic and artistic point of view, it is a complex, emblematic figure, a reference to which one can approach in interpretative terms which becomes an arduous and insidious task. The operation which Serena Spedicato took on is full of traps and questions marks, here courageously repeating the challenge faced a few years ago with a record dedicated to Tom Waits. lt's not about facing Broadway's Songbook, sancta sanctorum travelled far and wide by thousands of performers (sure, many times with extraordinary results), or the Pop hit placed by so many in their repertoire, even with intriguing arrangements. Nothing like that at all. Rather, 1 can feel, and believe l'm not wrong, the spirit of Alice, looking into the mirror searching for an image of herself, and jumping headfirst into an inner journey Serena takes Sylvian's very text and musically de-structures them to avoid "mimicking" him, thereby rendering them nearly detached from the original and places them in less-evanescent, more solid, setting, perhaps incorporated of the land from where the singer comes. A deep south, that of Salento, noble and sought-after, finisterrae yet which leads to the unknown. Like Sylvian, Serena loves acoustic weaves, cherished reverbs, piano tinkling of a refined yet timid musician such as Nicola Andrioli, the concreteness and the percussive dimension of a maestro such as Michele Rabbia, the indispensable archaic sound of the trumpet like that of Kenny Wheeler, Jon Hassell, Mark lsham and in the end, Arve Enriksen in the works of the British artist, here entrusted to a Scandinavian genius loci, Kalevi Louhivuori, who gathers these then launches the seeds beyond. Yet she, Serena, gravitates on it all, with a voice which narrates as in Orpheus, whispers with head consonance and to her clean register, full of harmonies, Serena – Sirena who counter-points the breath of Louhivuori in Weathered Wall. A vocal color at times reminiscent of two performers who were both divergent and convergent at the same time: Norwegian Karin Krog and British June Tabor. Such is her part in this story, that she is allowed even the tinsel of overdubbing, in Heartbeat, with grand taste and moderation. Although the whole thing benefits from a commendable chorality, there is no shortage of moments in which personalities spontaneously and necessarily emerge, such as Andrioli's piano contributions in Brilliant Trees or those of Louhivuori in Laughter and Forgettin, while Rabbia re-touches everywhere, like a sigh that ties the fabric of the songs together. And everywhere Serena/Alice travels the multi-faceted land of Sylvian, minimalist, ambient, new age, without "getting her head cut off ", with the abandon of the profound musician, without getting uselessly "hypnotized" by the Jazz "scoobydoo" of a manner, without giving into the temptation of a predictable restored lectio, like many recurring homages, presenting us with a page ripped out, and, risk, entirely re-written."
"Thanks to Nicola Andrioli for taking care of the arrangements with inspiration, wisdom and poetry; Artist of rare sensitivity and a close friend. Thanks to Kalevi Louhivuori and Michele Rabbia, sophisticated and profound interpreters, for their affection and friendship. Thanks to Maestro Roberto Ottaviano for giving me the most precious words I could wish to receive. Thanks to Maurizio Bizzochetti for his unconditional love and support, for always believing, together, in my projects. Thanks to my dear friend Giacomo Rosato, for his visionary art that has always accompanied my artistic Journey Thanks to Silvia, Dario, Salvatore Carofalo and Antonio Bizzochetti for having strongly believed in me and in the project Thanks to llaria Romano for believing in me, friend of Heart and Soul. Thanks for support to Dodicilune, Gabriele Rampino, Pierpaolo Lala, Cool Club, Anna, Giovanni and Simona, to all friends with whom I share experiences and Music"
– Serena
"Thank you very much to Kalevi and Michele for their great talent, big thank you to Maurizio for his great support and friendship. Special thanks to Serena, to introduce me to David Sylvian's music, for her beautiful voice and her emotional and sensible interpretation. Thank you Serena for our long friendship."
– Nicola
Serena Spedicato
DODICHILUNE
Buy them at the shop
Gallery
CD The Shining Of Things front artwork

CD The Shining Of Things back artwork

CD The Shining Of Things inner artwork

CD The Shining Of Things disc

LP The Shining Of Things ad artwork

LP The Shining Of Things ad artwork

LP The Shining Of Things front artwork ED439

LP The Shining Of Things back artwork ED439

LP The Shining Of Things front artwork sticker

"THE SHINING OF THINGS. DEDICATED TO DAVID SYLVIAN" – VIDEO TEASER
Booklet