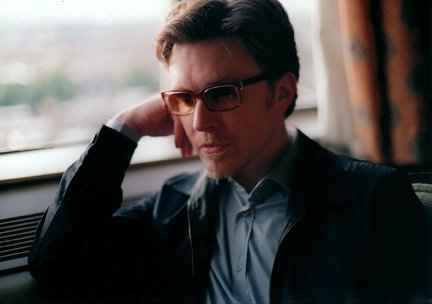 Published at January 31, 2003
The Exclusive Interview With David Sylvian!
Rarely ever does the opportunity come to interview a true pioneer in the music industry. They are as few and far between as a Haley's comet sighting! David Sylvian is one of the few true innovators left today. Young David Batt (his surname at birth) and his younger brother Steve aspired to follow the footsteps of idols such as David Bowie and Roxy Music into the wildly bizarre glam rock music scene, and along with bass prodigy Mick Karn, they formed the hurriedly named Japan in the mid 70's. Japan would soon cut their own mold into the music scene as their increasingly electronic sound would soon blaze the trail for up and comers like A Flock Of Seagulls and Duran Duran. Japan would bow out on top of their game in 1982, but David continued to work hard, forming collaborations with the highly regarded Ryuichi Sakamoto, Robert Fripp, and writing and recording his own music. It feels somewhat unjust to try and sum up a great career in a short paragraph, so I will let the interview pick up from here. Suffice to say that David Sylvian is still "the great romantic", and his music is even more compelling than ever before. Without further ado, I am proud to present: David Sylvian in a rare interview opportunity!
Q: David, I want to thank you so much for taking the time to join me here for this interview. This is a rare treat for all of your fans! I wanted to start off here by asking you what kind of projects you are working on as we have just entered this new year of 2003?
A: I'm attempting to work on a number of projects simultaneously. At the moment I'm completing work on a solo album of songs for guitar and electronics which features contributions from Derek Bailey and Christian Fennesz. This will be the first release for my label, Samadhi Sound. It will initially be available, exclusively, at the newly established web site davidsylvian.com. I'm also part way through a new project with my brother, Steve Jansen. We're in the early stages of developing a new, long term, collaboration.
It's been my desire for some time to co-direct a project with a revolving line up of musicians with which to explore certain ideas and musical directions. To develop with the participants a common (musical) vocabulary which may be constantly expanded upon, a project which evolves over time in a stimulating variety of contexts. We were to attempt this with Rain Tree Crow but to our disappointment that didn't work out. Now we're starting over with this new venture.
Q: In 2001, you began touring in support of your fantastic 2 CD collection entitled Everything and Nothing as well as your latest studio release Camphor, and that tour finally ended with a short run in the states in the summer of 2002. Is there a chance that we may be fortunate enough to see an official release of some of those live performances from You?
A: In time something may come of the live material recorded in Europe '01 but not at the present. I've spent far too long working on retrospective material. I simply wish to move forward.
Q: It was noted by anybody that attended one of those shows, fan or critic, that you really seemed to be enjoying yourself on stage more than ever before on the E&N tour. How did you feel about the chemistry of the great touring band you had together for this tour?
A: I felt very comfortable with the band on the E&N tour. There was a wonderful chemistry between the five of us and a simplicity, a directness, in the musical arrangements which kept the material fresh, honest, and challenging.
Q: Fans are always going to ask when you are going to be touring again, but of course it has to be understood that without the backing of a supportive record label, touring can be financially disastrous, even to a great artist like you, especially now that you have left the Virgin Record label. While I certainly don't expect to get into the logistics of the numbers, what were some of the positives and negatives for you regarding the E&N tour?
A: The only negative as far as I recall was the financial loss on the US leg. Otherwise the entire experience was positive.
Q: You just recently remixed Damage, the live CD from the Road To Graceland tour in which you played with Robert Fripp, Trey Gunn, Michael Brook, and Pat Mastelotto. I was blown away by this CD! One of the best live albums I have ever heard from anybody. What were the main things that you wanted to accomplish when you remixed the tapes as compared to Fripp's mix?
A: Robert's take on the material was simply a little different from my own. Referring to the original mix, I didn't like the way the drums had been treated in the studio, the fact that Michael's guitar was so low in the mix. Many of the subtleties to my mind had been lost somewhat. Suffice to say that, from my perspective, I felt there was more to be drawn from the material than was originally achieved.
Q: You have stated in previous interviews that playing with Robert Fripp was instrumental in making performing live fun for you for the first time in your entire career. Can you explain how it opened the whole experience up for you?
A: Part of it may have been a matter of timing. I simply began to feel less neurotic about performing live. I began to feel the benefits of reinterpreting the material nightly and welcomed the challenge of repeatedly immersing myself in the emotional heart of each piece. Robert brought a fantastic commitment to each and every performance. On every level. Heart, mind, and spirit. It was an education witnessing that intensity of commitment, that level on consciousness brought to bear on every performance.
Q: Your brother Steve has turned into my biggest drumming idol , and I was fortunate enough to interview him recently as well. Steve has been by your side with you through nearly every project you have ever been involved in with the exception of the Fripp tours. Can you tell us what Steve means to you as a brother and a musician/musical collaborator?
A: As brothers, Steve and I have been through our ups and downs but there's always been, I believe, an unspoken ground of respect and trust. As young men working together in the group Japan, we generally found our ideals and aesthetics to be closer to one another than with any other individual in the group. This gave the band a somewhat clearer basis from which to grow. Making mistakes and learning from them. Slowly trying to take hold of the reins and control the fate of our own lives. Difficult and exciting times.
We've shared a lot together. Now we find ourselves closer than any other time since our childhood. This wasn't a turn of events I could have foreseen as recently as 5 years ago. Just prior to working together on the E&N tours, we'd decided that the time was right to take a second crack at trying to realise the group scenario laid out above.
As a drummer Steve is simply one of the best, period. Unfairly underrated in the world at large.
Q: When yourself and Steve decided that you were interested in beginning a band in the early 70's, how was it decided between you who was going to play which instrument?
A: These things tend to happen quite naturally. I'd developed a love of playing and writing on guitar quite early on. Steve hadn't made such a connection. As I started playing my naïve first efforts Steve took to accompanying me on percussion. He was a natural. Simple!
Q: Although Japan found it's early influences in Roxy Music and David Bowie with it's earlier glam/art rock approach, you defied some of the ideas of what was "cool" at the time by infusing some of your earlier Motown influences into Japan's music, including a remake of "I Second That Emotion". How much did your sister's Motown records throughout your childhood shape the way you wrote and played?
A: That would be hard to quantify at this point in time. The Beatles were everywhere when we were growing up in the sixties. They appeared to be in the very air we breathed. That sound, the songs, the subject matter, was our background. It was our culture that was being represented. We identified with it even at a tender age. The Motown sound, equally unique, was an exotic but distant cousin representing a culture whose influence grew in significance as the years progressed. Obviously, the rhythms that Motown, and black music in general, incorporated influenced us in some ways. Beyond that I cannot say.
Q: There are some articles from the early 80's in which you confessed that you weren't very fond of Adolescent Sex or the way it was kind of contrived upon you by management. Twenty years later, do you still feel the same way about that album?
A: My opinion of that album will never change, of that I'm certain.
Q: Obscure Alternatives was very unique to me in that there was a lot of Reggae flavor on the album that was not really present before that album or again thereafter. Rhodesia even became a concert staple for many years afterwards. Where did the Reggae influences of that album develop from?
A: We listened to all kinds of music as we grew up together and for a while we developed a keen interest in reggae. There was a healthy reggae scene in London at that time, particularly in South London where we were living. It was a short lived love affair really.
Q: Were you surprised when Ghosts became such a huge hit in the UK, being that it deviated from the kind of dance club beat-type songs that were popular at the time?
A: Actually, I had immense faith in that track from the beginning and urged Virgin to release it as a single so it didn't come as a complete surprise to me that it was as successful as it was. Very gratifying all the same of course.
Q: Looking back on Japan, what place do you feel the band holds in the way music would be shaped in the years after it's breakup? My opinion says uncredited pioneers of New Wave/Synth music. Would you consider that to be too strong of a statement?
A: That's for others to decide.
Q: I wanted to be sure to ask you about another creative medium in which you have also been producing some stunning work, and that is in painting and photography. Do you still find much time to do either, and are you planning on releasing any more work for public sale in the near future?
A: I work in different mediums from time to time. Much of what I produce is an alternative means of exploring self and ideas. A private activity. Occasionally something I produce might be shared with a wider public, but for the most part that won't be the case.
Q: What other projects are you looking to get involved in during the next few months? Is a DVD release a possibility?
A: A DVD release isn't in the cards in the short term although it is something I have an interest in pursuing. As I said above, I'm attempting to work on a number of projects simultaneously. I move from one to another as time allows. These include group (with Steve), solo, and collaborative projects.
Virgin are also in the preliminary stages of re-mastering, repackaging, and re-releasing the Japan catalogue. The solo catalogue will follow on from that. Many of the CDs will include video footage from the relevant periods.
Q: David, I want to sincerely thank you so much again for joining me here, and I want to wrap up by telling you that you and I actually share the same birthday (February 23), so I want to wish you an early happy birthday and wish you all the best in your upcoming projects. We are looking forward with great anticipation to what is yet to come!
A: Thanks Billy.
Editors note: Sadly, the interview questions were presented before the announcement of David's Samadhi Sound label was released, therefore, there is little reference to Samadhi, but rest assured, if I had known more about it at the time, we certainly would have touched on it! *I would also like to give a very special thanks to David's manager, Richard Chadwick for making this whole interview possible, and for his great kindness to me throughout. This never would have been possible without Richard, and for that matter, Gerrit Hillebrand of the former Trophies.org site for his help in putting me in touch with Richard. This interview was done in great debt to them, and of course, Mr. Sylvian himself, for taking time from his extremely busy schedule to answer the questions!
David's brand new official website is still under construction, but stay tuned, because it is due to launch soon!