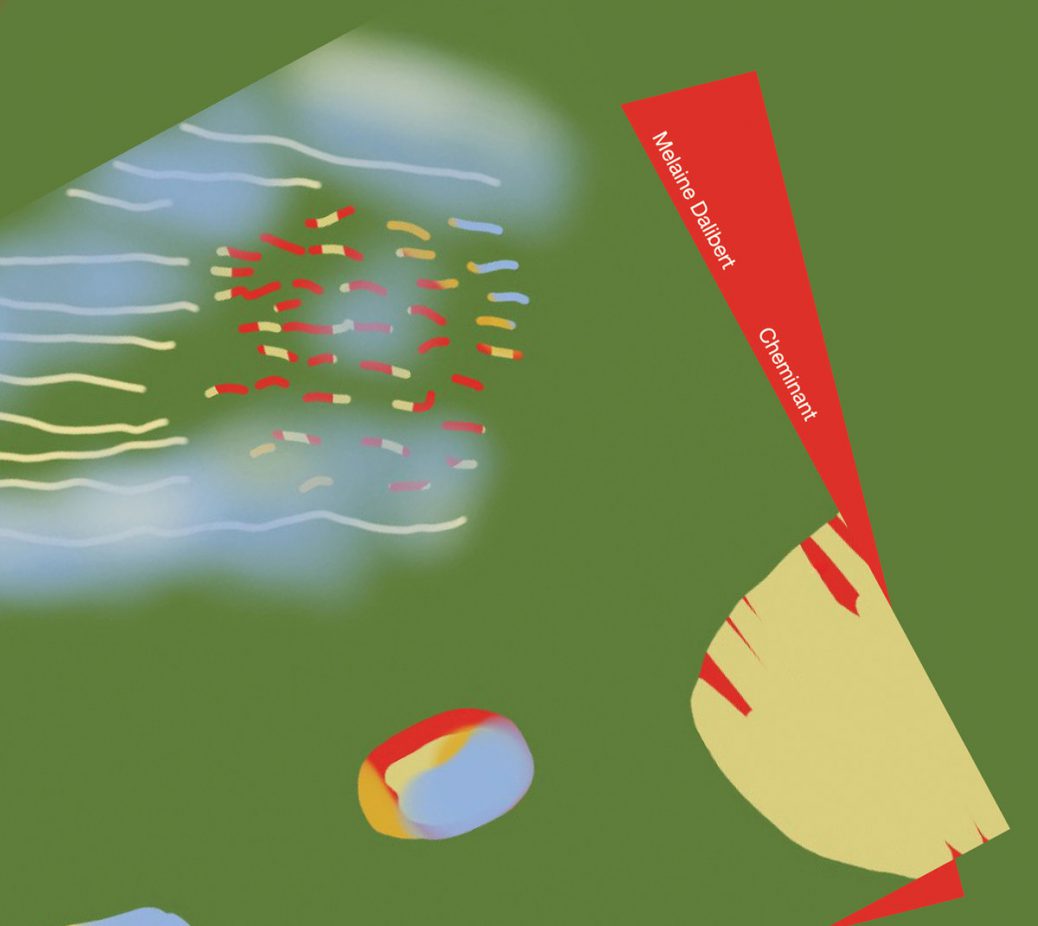 Released at July 1, 2019
David Sylvian provided artwork and mixing advice for this recording by pianist Melaine Dalibert on Yuko Zama's elsewhere label.
Track one is dedicated to David Sylvian by the artist.
Four-panel gatefold wallet with one disc, artwork by David Sylvian, design by Yuko Zama. Limited edition of 500. Tracklisting:
Music in an octave (2018)
– for David Sylvian
Percolations (for right hand) (2018)
– for Yuko Zama
From zero to infinity (2019)
– for Peter Garland
Cheminant (2018)
– for Reinier van Houdt
Étude II (2017)
all compositions and piano by Melaine Dalibert
recorded by Herve Jegaden and David Launay at HD Studio
in Saint Maugan, Brittany, France in February 2019
mixed and mastered by Taku Unami
mixing advice by David Sylvian
artwork by David Sylvian
design by Yuko Zama
produced by Yuko Zama
special thanks to: David Sylvian and Cyril Jollard
From the release announcement:
"All five pieces were composed by Dalibert in 2017-2019, reflecting his current interest in questioning how the harmonic shifts could affect the listening experience with subtly evolving chords through a scale or different tones, creating a similar state to vertigo. Diverse as they may seem, all five pieces attain delicately balanced harmonization of rich layers of the woody, warm direct tones of the piano, overtones and resonances, blended to form a complex harmonic beauty exquisitely delivered with Dalibert's virtuosic piano techniques."
From Yuko Zama, Sonemic interview, 2019:
"Melaine Dalibert is one of my favorite composers/pianists, already featured twice on my label elsewhere. While his previous album 'Musique pour le lever du jour' featured one long piece, which adopted his algorithmic method with a pentatonic scale, to create an 'endless piece' with a notion of stretched time, his latest album 'Cheminant' contains a diverse array of his newer compositions, ranging from the up-tempo rhythmic pieces to the slow, prolonged meditative pieces. In his pieces, chords evolve gradually with slightly different tones via the repetition of a simple motif changing its nuance and shades over the course of time. Dalibert is excellent at creating a delicately balanced harmonization of the rich layers of the soft direct tones, overtones, and resonances, and it always amazes me to see how he manages to create such rich sonorities without making the results sound cloudy at all. I love the way he creates an organic flow with fluctuations that contains a positive energy, a sense of hope, and humane warmth, despite his mathematical method of composition
People often tend to categorize music into a certain genre, but when I listen to Dalibert's music, it made me feel that good music is good no matter what genre it may belong to. There is an innocent momentum in his music that seems to transcend genres, contemporary classical or minimal or experimental, and he seems to be certainly creating his own unique world of piano music. I am curious to see how his music will evolve in the future and am happy to document his growth as a composer on my label.
For the cover design, I featured an early drawing of David Sylvian's. The spacious layout with the clean, bright, warm colors of Sylvian's artwork seemed to echo perfectly with the woody warmth and the cloudless innocence of Dalibert's music."
bandcamp
Gallery