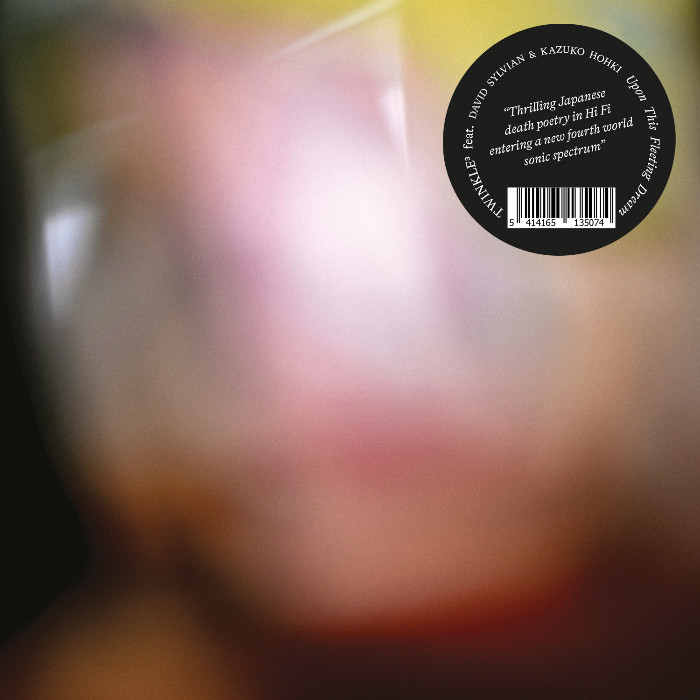 Released at October 28, 2022
Clive Bell/David Ross/Richard Scott/Bosworth Music Publishing
Cortizona 017-2022
Distribution by NEWS
Upon This Fleeting Dream is a new release by Twinkle³ featuring David Sylvian & Kazuko Hohki.
Sylvian features on 7 of the 10 tracks reading short Japanese poems in English translation. Renditions of the poetry in the original Japanese are given by Kazuko Hohki.
'On 'Upon This Fleeting Dream' Clive Bell's Twinkle3 embraces medieval and 16th-century Japanese poems and haiku about death and saying farewell. Bell and his trio, consisting of Dave Ross and Richard Scott, expand their sonic borders: bringing these pithy epigrams to a new Fourth World where electro-acoustic sounds glitches into a hypnagogic, if not the unconscious level of fragile beauty.
The distinctive voice of David Sylvian (ex-singer of Japan and known for his highly acclaimed solo work (Brilliant Trees, Secrets of The Beehive, Blemish…) and collaborations with Ryuichi Sakamoto, Robert Fripp, Holger Czukay and Jon Hassell amongst others) – who reads the English version of the poems and created field recordings and the artwork for this album – blends in the most organic way with the shakuhachi, Thai reed flutes and mouth organs played by Clive Bell.
The narrative voices of David Sylvian and Kazuko Hohki's (Frank Chickens, Kahondo Style…) velvet timbre are the cornerstones of this compelling journey while the tangling and abstract rhythms transcending from Dave Ross' modular synths and Richard Scott's sampler and analogue electronics, unravel and unfold a mesmerizing universe with unknown dimensions and frequencies of a fleeting dream.'
Release on vinyl on Cortizona on 28 October 2022.
Clive Bell appeared on 'When Loud Weather Buffeted Noashima' and Sylvian wrote sleevenotes for Twinkle3's album 'Debris in Lower Earth Orbit'.
Tracklist
Side 1
"Upon This Fleeting Dream"
"I Borrow Moonlight"
"Throughout The Frosty Night"
"My Coming, My Going"
"If I Leave No Trace"
Side 2
"The Cicada's Song"
"Kaite Mitari"
"Cherry Blossoms Fall"
"A Poppy Blooms"
"Empty Handed"
Credits:
Twinkle³ are Clive Bell, David Ross and Richard Scott
David Sylvian: readings (in English), field recordings, cover photography
Kazuko Hohki: readings (in Japanese)
Verses from Japanese Death Poems: compiled by Yoel Hoffmann, published by Tuttle Publishing. Used with permission by tuttlepublishing.com
Produced by David Ross and Richard Scott.
Mastered by Gert Van Hoof at Cochlea Mastering Cut by Dubplates & Mastering Berlin.
Layout by Jef Cuypers
Executive production by Philippe Cortens
Special thanks to Yuka Fujii
Purchase the whole album on Bandcamp
Read all about this project on the Sylvian Vista blog
Gallery
Tracklist