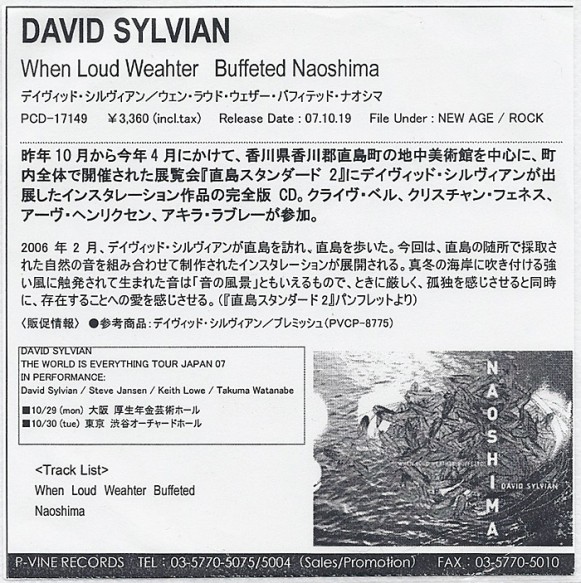 Released at October 19, 2007
Japanese P-Vine promo with inlay.
Like most of the Japanse promos todat (at least they are making some), this is a CD-R with a sticker on the disc with details and a small inlay.
On the inlay there is some information about this soundtrack and it mentiones David's 2007 tour in Japan.
Notice the mistake in the title on the inlay (weahter) !
Distributed by P-Vine Records, Japan.
When loud weather buffeted Naoshima was commissioned by the Naoshima Fukutake Art Museum Foundation on the island of Naoshima, Japan as part of the NAOSHIMA STANDARD 2 exhibition which ran from Oct 2006 to April 2007.
The recording was performed by an ensemble of musicians: Clive Bell, Christian Fennesz, Arve Henriksen, Akira Rabelais, and David Sylvian.
David composed, recorded, and produced the work at samadhisound studio 2006. A final mix of the material for this edition was
Many thanks to Sven Jacobs for providing the images.
Gallery
Tracklist