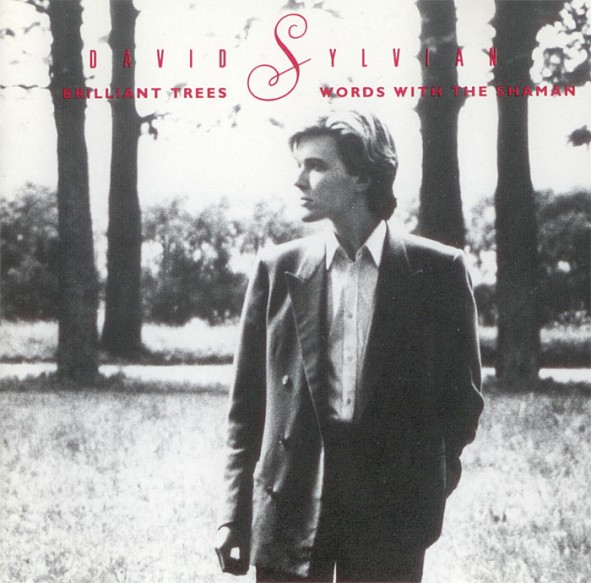 Released at September 13, 1991
(P)(C)1991 VIRGIN RECORDS LTD./Opium (Arts) Ltd.
Marketed and distrubuted by Caroline Records.
A not so spectacular early US only re-issue of Brilliant Trees featuring Words With The Shaman.
Credits: All songs written by David Sylvian, except 5&7&8: Words by D. Sylvian, music by D. Sylvian & J. Hassell.
Track 8:
Part 1: Ancient Evening [Sylvian, Hassell]
Part 2: Incantation [Sylvian, Hassell]
Part 3: Awakening (song from The Tree Tops) [Sylvian, Hassell, Jansen]
Produced by David Sylvian and Steve Nye except 8: David Sylvian and Nigel Walker.
Engineered by S.Nye, assisted by David Sylvian, P.Williams except 2,6 mixed by David Sylvian, N. Walker assisted by M.Buttler, except #8 mixed by D.Sylvian and N.Walker.
Cover Design: David Sylvian, Yuka Fujii
Cover photography: Yuka Fujii
Inner booklet photography: Anton Corbijn, Simon Gargette
Design realization: HughesGroup
| | | |
| --- | --- | --- |
| David Sylvian | : | vocal, guitar, prepated piano, synthesizer, percussion, tapes |
| Holger Czukay | : | dictaphone, guitar, french horn, voic, radio |
| Steve Jansen | : | drums, percussion, synthesizer |
| Richard Barbieri | : | synthesizer on 1,5 |
| Ryuichi Sakamoto | : | piano, synthesizer on 4,5,7 |
| Steve Nye | : | piano, synthesizer on 3,4 |
| Jon Hassell | : | trumpet on 5,7,8 |
| Kenny Wheeler | : | flugelhorn on 2,3 |
| Mark Isham | : | trumpet on 4 |
| Phil Palmer | : | guitar on 2,4 |
| Ronny Drayton | : | guitar on 1,4 |
| Wayne Braithwaite | : | bass on 1,4 |
| Danny Thompson | : | double bass on 2 |
| Percy Jones | : | fretless bass on 8 |
Gallery
Tracklist
Booklet