Published at April 20, 2012
Instant film photography exhibition as part of the 'Impossible Project' in Japan entitled 'Glowing Enigmas', April 20th – May 20th 2012 in the Impossible Project Space, Tokyo, Japan
This page will merely contain contents of other sites, put together to give you an impression of the exhibition.
On Friday 20th April, the photo exhibition Glowing Enigmas was opened in the Impossible Project Space in Tokyo, Japan.
Read the review below, by Javier on japansylvian.com.
At the opening reception, a live DJ played music, selected by David.
Text by David Sylvian at the entrace of the exhibition:
glowing enigmas
david sylvian 2012
Although I'd started taking polaroid photographs in my early twenties, I hadn't returned to the SX-70 camera since I'd retired it in the early 90's. From the decade on I've worked exclusively with digital cameras and my eye has adjusted accordingly. Working with the limitations and benefits of the LCD screens on digital cameras I became far more conscious of colour and form, of making compositional choises based primarily upon this criteria. When the focus of attention moves from the audible to the visual, and this has to be a fairly conscious decision, the educated eye registers these elements prior to conscious thoughts intervention so the process has become largely instinctual. I rarely photograph people. Most of images are now devoid of the living. Our presence is alluded to via the manmade environments I'm largely drawn to, the detritus of our modern lives, evidence of social organisation and cohabitation, vehicles, architecture, possessions and, inevitably, the natural world.
Returning to the polaroid camera with its insistence on being held close to the retina, the world was again dimished. In my opinion this instrument was never at its best attempting to capture the broader view, it was all about the dtails so, once again, I found myself drawn to the minutia of the world around me and, yes, portraiture. The quality of the new film stock is such that one has to embrace its faults: the seemingly random over and under exposed images, the developmental errors. These give the images the look of something long lost, redeemed from memory, another time and place. They imbue the ordinary with the melancholy of the departed, the luminosity of the lost.
Suspended in a limbo in and outside of time, divorced from context, these photographs exhibit some of the 'glowing enigmas' that inhabit the world.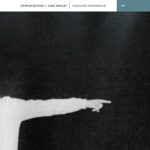 Please note that during the exhibition, the soundtrack played is Radioland (Panormica) by Stephan Mathieu and Caro Mikalef:
LINE_055 | CD + Digital | Edition of 500 | February 2012
After 2011's quickly sold-out edition Remain (LINE_047), Stephan Mathieu returns to LINE with a majestic new collaborative live work with Argentine artist Caro Mikalef.
Radioland (Panormica) is originally audiovisual piece commissioned by Wili Peloche and Martn Borini for Panormica, performed live on March 11, 2011 at Espacio Fundacin Telefnica Buenos Aires with a setup comprising two Fender Twin amps, an Ampeg SVT-810 and a 21 x 4m video projection.
Caro Mikalef: Columbia Phonoharp, Ebows
Stephan Mathieu: Radio, processing
Recorded live at Panormica, Espacio Fundacin Telefnica, Buenos Aires on March 11, 2011.
Order it here!
Review and images from the opening reception.
Postby javier on Fri Apr 20, 2012 11:21 am
Just arrived home from the exhibition's opening reception.
Very brief summary: Sylvian rewards his viewers with an incredibly intimate series of images, quite unlike anything I've seen from him before. Radically different in mood and content from the photographs featured on his website gallery pages.
Each work is a triptych, a set of 3 polaroid images mounted on dark matte with a simple black frame.
And each holds its own narrative in the relation between the three images. The possible meanings of many remain elusive but all are nevertheless compelling.
There are 47 works in all, ranging from self-portraits to images of family, friends and fellow artists, photographs of photographs, images of small ornaments, figures of gurus and deities, empty chairs, the occasional musical reference – part of a keyboard or mixer, light beams falling on small bottles, or the edge of a shelf, anatomical diagrams. A few (but very few) landscapes, mostly of treetops and sky.
Most images monochrome, but some rich with colour.
Often cropped, often blurred or out of focus, or washed-out, or with chemical residue marks, the nature of the process and medium are made highly visible.
The exhibition warrants slow, extended viewing.
The artist didn't attend, but a specially selected music playlist by Sylvian provided the soundtrack to the evening.
For those interested, all works are for sale.
Catalogues (a limited run of 1,000 has been printed) are available at the gallery for JPY 2,100.
A few images have been uploaded to http://tokyo-art-stuff.posterous.com/124459374
Apologies for the low quality of images. Reflective glass and spotlights do not a good combination make.
Needless to say, these photos don't even begin to convey the sense of intimacy and strength of the artworks themselves. Those are polaroids – unique art objects, not just image/photo data that can be reprinted and retain the same qualities.
Pictures taken at the opening of the exhibition as published by Impossible Tokyo KK  can be found here.
News page / PDF on The Impossible Project