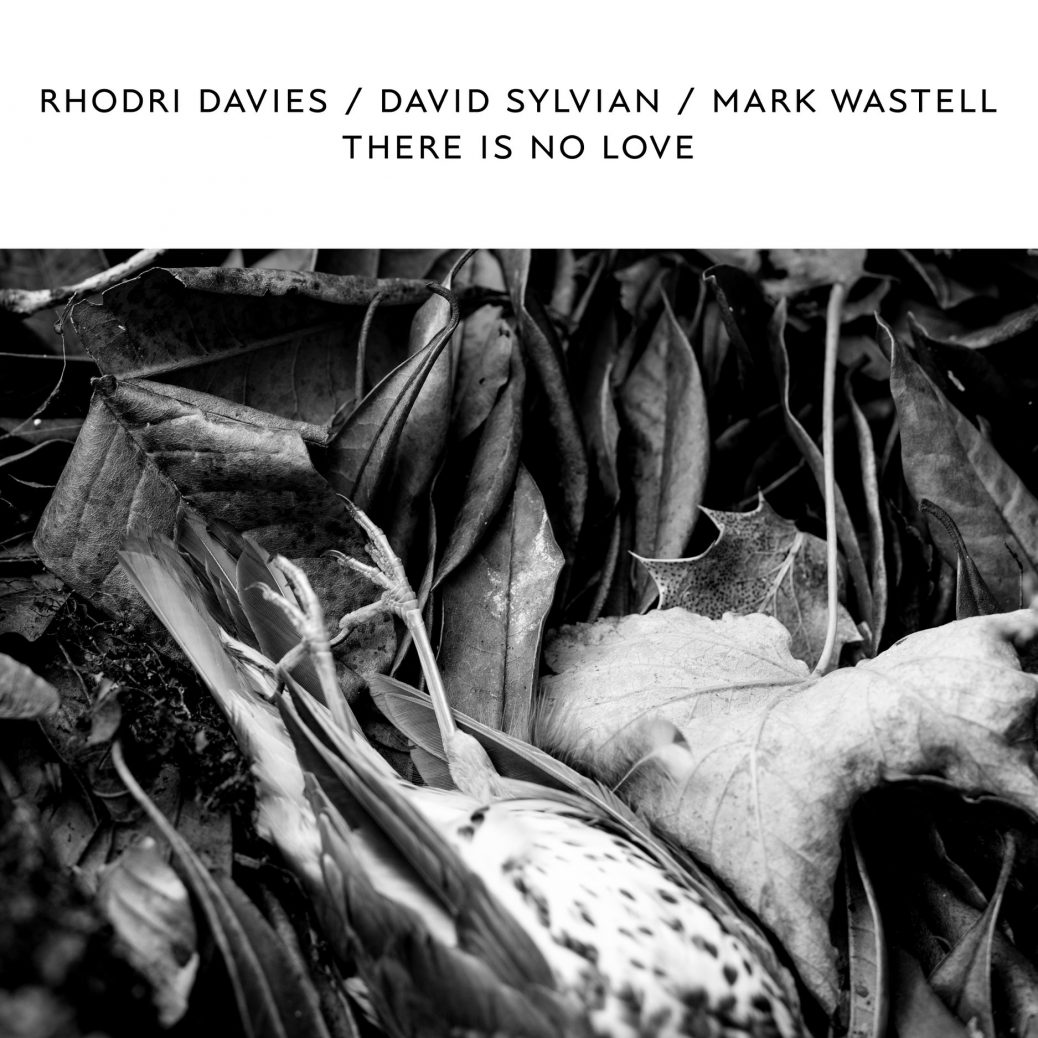 Released at April 13, 2019
confront core series CORE LP 01
LP version of There Is No Love released at Record Store Day 2019 on a limited edition 180g white vinyl LP!
Remixed, remastered and repackaged and also featuring a cover photograph from David.
Rhodri Davies : lap harp, table harp, vibraphone, radio
David Sylvian : voice, vocal treatments, electronics
Mark Wastell : tam tam, cracked ride cymbal, chimes, indian temple bells, singing bowls, metal chain, tubular bell, concert bass drum
Voice recorded by David Sylvian, Los Angeles, USA, 2014.
Instrumental parts recorded by Rupert Clervaux at Studio 3, London, 18th February 2017.
Additional contribution from Toshimaru Nakamura (no-input mixer) recorded by Steve Bates and David Sylvian, Montreal, Canada, 2012.
Tubular bell and concert bass drum recorded by Matthew Sansom, Surrey University, 2006.
Original text by Bernard Marie Koltès.
Compositional structure by Mark Wastell.
Mixed and mastered by Rupert Clervaux.
​Special thanks to Harry Smith who mastered an earlier version of David Sylvian's vocal track for the concert at Cafe OTO. ​
A collaborative work between Rhodri Davies, David Sylvian and Mark Wastell, and slowly pieced together over a decade-long timespan, the eerie reading that makes up the piece There Is No Love is a welcome addition to the catalogue of the three artists. An example of onkyo-infused prose poetry littered with bells, light percussional touches and a sparing usage of what could be interpreted as "melody", There Is No Love features a haunting recitation of Bernard-Marie Koltes' 1985 play In the Solitude of Cotton Fields, focusing on a shadowy late-night rendezvous between the mysterious dealer and the seedy client. The exchange between these characters and their dialogue evokes a sense of danger, of incoming violence, or of sexual abandon; repetitions that affirm an absence of the concept of "love" amidst lamentations of injustices, melancholy, and humility are littered throughout the story being told – the dealer slowly ensnares his "melancholy virgin" client, luring him to indulge in the pleasures he is peddling. The client observes his surroundings, full of things that are devoid of emotion, and full of "decomposing memories"; his despair is what leads him to the dealer on that night.
As Sylvian slowly makes his way to the fated meeting between the pair, his backing looms onward and grows increasingly tense – a warm fuzz builds along with gentle chimes as if it were a cold and windy night in a dimly-lit town in the middle of nowhere. There Is No Love's main asset is in suspense, in a lowly nightlife meeting between two equally hopeless characters that put emphasis on a desperation rarely seen; the dealer tries so hard to sell his product, while the client's burden never ceases and is unable to buy. The conflict reaches a summit but without a conclusion and the resolution is ultimately up to the audience itself. There Is No Loveperfectly attains the feeling of hopelessness throughout its brief thirty-minute reading, and puts you into the situation at hand. Never throwing the listener out of the story, the accompaniment of There Is No Love guides them along as Sylvian enunciates the prose with soothing clarity, and is a haunting inclusion into the world of electroacoustic music. (Sputnik Music)
Buy this album directly from Mark Wastell
Gallery
There Is No Love white vinyl LP

RSD 2019 sticker on shrink wrapped LP
Tracklist