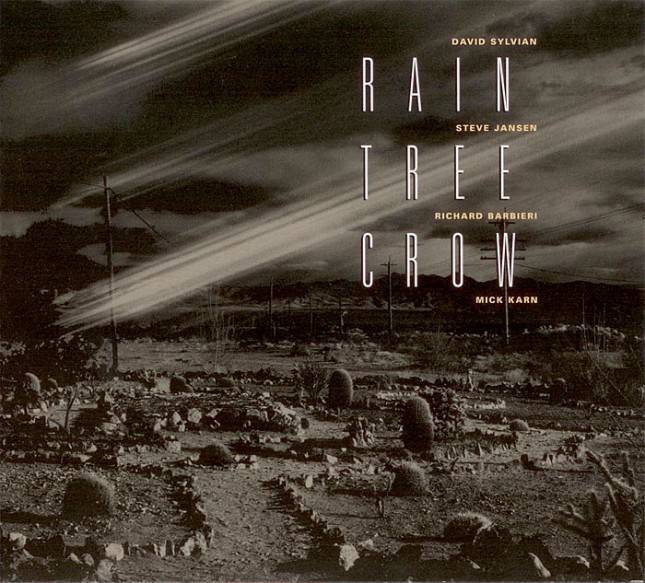 Released at September 15, 2003
The 2003 re-issue 6 panel digipak with copper/silver folled artwork (front and back).
Extra Shinya Fujiwara photo (originally only used in Japanese release) is included plus, Douglas Brothers photos of individual band members.
The disc itself is now silver folied.
Fold-out poster booklet (gloss art paper) included with Fujiwara image on the front and the Douglas Brothers band photo's are included on the back with all the track data and credits.
It finally includes the bonus track I Drink To Forget.
Credits:
Computer programming: Steve Jansen
Keyboard programming: Richard Barbieri, David Sylvian
All song written by Rain Tree Crow, words by David Sylvian.
Published by Opium (Arts) Ltd/10 music Ltd.
Produced by Rain Tree Crow.
Engineered by Pat McCarthy
Additional engineering by Tim Martin
Mixed by David Sylvian & Steve Nye assisted by Al Stone at Olympic Studios, London except track 2,3,6,7,11 mixed by David Sylvian & Pat McCarthy at Eel Pie Studios, London.
Cut by Tony Cousins at the Townhouse.
Remastered by Tony Cousins at Metropolis Mastering, London
Landscape photography by Shinya Fujiwara.
Portrait photography by The Douglas Brothers
Redesign by Andrew Day @ The Red Room, EMI
| | | |
| --- | --- | --- |
| David Sylvian | : | Hammon organ, guitars, shortwave radio, electric piano, vocals, additional percussions, bass, synthesizers |
| Mick Karn | : | Pulse bass, Wah Wah bass/saxophone, brass, pipes, bass clarinet, wine glasses |
| Steve Jansen | : | drums, percussion, hammond organ, ceramic drum, tambourine, moroccan clay dru, treated piano, marimba, wine glasses |
| Richard Barbieri | : | synthesizes, piano, organ |
| Djene Doumbouya | : | vocals on 1 |
| Dianka Diabate | : | vocals on 1 |
| Bill Nelson | : | Additional guitar on 1, guitar on 8 |
| The phantom horns | : | Arranged by Sylvian/Karn on 1 |
| Phil Palmer | : | Slide guitar on 1, acoustic guitar on 4 |
| Michael Brook | : | bass conga on 4, guitar treatments on 5, percussion on 9, treatments on 11 |
| Brian Gascoigne | : | Orchestration on 4 |
Recorded between September 1989 and April 1990 at Miravel Studios, Le Val, France, Condulmer Studio Zerman di Mogliano, Italy; Marcus Studios London; Air Studios London; The Wool Hall Bath; Ropewalk Studio Dublin; Mega Studios Paris, France; Eel Pie Stuidos, London.
Assistants: Mohammed (Momo) Loudly/Paolo Carrer Rupert Coulson/Louise McCormick/Bruce Davis/Paul Stevens
Recording co-ordination and management: Richard Chadwick
Assisted by Natasha White on behalf of Opium (Arts) Ltd.
Special thanks to Michael Brook/Sando Franchin/Yuka Fujii/Dermot McEnvoy/Russell Mills/Enico Monte/Patrice Quef/Pete Townshend/Gary Wright/Syco Systems Ltd. (Adrian Thomas)/Wal Basses/Sabian Cymbals
The majority of the material on this album was written as a result of group improvisations. There were no pre-rehearsals; the improvisations took place in the recording studio and much of the finished work contains original elements of those initial performances.
Special thanks to:
Michael Brook, Sandro Franchin, Yuka Fujii, Dermat McEnvoy, Russell Mills, Enrico Monte, Patrice Quef, Pete Townshend, Gavin Wright, Syco Systems Ltd. (Adrian Thomas), Wal Basses, Sabian Symbals
Gallery
Tracklist