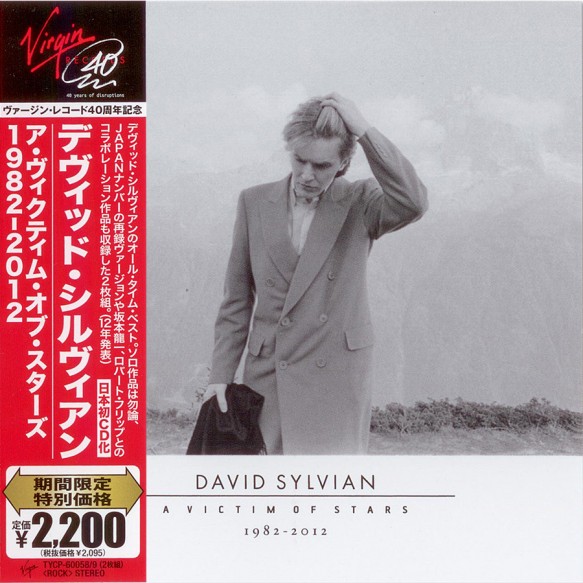 Released at October 2, 2013
USM Japan, a Universal Music company.
@ 2013. The Copyright in this compilation is owned by Virgin Records Ltd.
@ 2013 Virgin Records Ltd.
Manufactured by Universal Music LLC.
Japanese limited pressing of this compilation released on October 2nd 2013 and for sale until December 17th 2013.
A note from CDJapan:  Available only for a limited period of time until December 17, 2013.
First release in Japan as part of the "40 Years of Virgin Music" campagne.
Packed in a jewel-case with obi. Artwork is a 8 page booklet with tracklists and credits. A seperate, typical Japanese lyrics sheet (7 panels folded) is  included with forword by Junichi Yamada. Note that Ghosts is the remixed version released in 2000 from the 'Everything and Nothing' Compilation.
A Victim Of Stars 1982-2012 brings together the last 30 years of David Sylvian's solo career, encompassing material released with Virgin Records, along with more recent work released on his own label Samadhisound, including a new recording 'Where's Your Gravity?' which is exclusive to this compilation.
Credits:
Art Direction Yuka Fujii
Design Chris Bigg
Executive producer – Jason Day
Management by Opium (Arts) Ltd.
Mastered by Tony Cousins
Original cover photography by Yuka Fujii
Gallery
Tracklist
Booklet