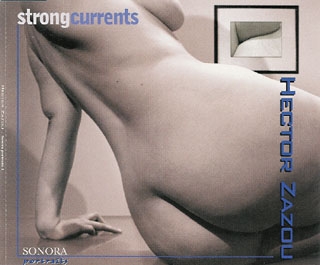 Released at December 31, 2003
Italian release in the series Sonora Portraits.
The CD is packed in a slipcase featuring a 94-page booklet with discography and an interview with Hector Zazou. In this interview he tells his side of the story about the omission of the tracks To A Reason and Victim Of Stars on the final version of Sahara Blue. (see below for the text taken from the interview).
CD tracklist:
1. Into Your Dreams (HZ) with Laurie Anderson
2. Mmmh (N. Hynes – HZ) with Melanie Gabriel
3. Beauty (N. Hynes – HZ) with Jane Birkin
4. In The Middle Of The Night (L. Carson- HZ) with Lori Carson
5. Let It Blow (E. Stow – HZ) with Emma Stow
6. Under My Wing (N. Hynes – HZ) with Nina Hynes
7. The Freeze (C. Lavelle – HZ) with Caroline Lavelle
8. Remember (HZ) with Sarah-Jane Morris
9. Is This (S. Moletta – HZ) with Catherine Russell
10. Indiana Moon (L. Germano – HZ) with Lisa Germano
11. Morning (N. Hitchcock – R. Sakamoto – HZ) with Nicola Hitchcock
12. Ocean of Sound (HZ) with Laurie Anderson
13. Blue (I. Grandi – HZ) with Irene Grandi
Piano: Ryuichi Sakamoto (9, 11), Stefano Bollani (3, 5, 7, 13)
Guitars: Mathias Desmiers (10, 12), Lone Kent (7 , 8), Dennis Rea (4), Pierre Chaze (2)
Musical Saw: David Coulter (8)
Clarinet: Orio Odori (2, 6, 9), Renaud Pion (7)
Flute: Marisa Rossi (2, 3, 4, 6, 9), Carlos Nuñez (12)
Oboe: Marco Bardi (3, 5)
Bassoon: Carlo Bardi (2, 5)
Trumpet: David Macinai (3)
Drums & Percussions: Bill Rieflin (2, 4, 6, 8)
Strings: Archaea Strings (Mauro Tabbrucci, violin; Vieri Bugli, violin; Marcello Puliti, viola; Damiano Puliti, cello) (2, 3, 6, 8, 9, 11)
Treated Violin : Jacques de Rignancourt (4)
Sounds etc. : Hector Zazou (1, 2, 4, 6, 7, 8, 9, 10)
Recorded at Valter B. Neri Studio (Montevarchi) & Macinarino Studio (Loro Ciuffenna), The Lobby (NY), NME et Taklab MKII (Paris), Hitchcock Home (London), Riverside Studio, Real World (Box), Bunkamura (Tokyo), Little Cottage (Old Hearthfield), Soundhouse (Seattle).
Engineered by Lorenzo Moka Tomasini (Neri, Macinarino), Nicola Hitchcok (Hitchcock Home), Hector Zazou (NME), Caroline Lavelle (Little Cottage), Alexis Mauri (Taklab MKII), Steven Rhodes (Soundhouse), Laurie Anderson (The Lobby), Goh Hotoda (Bunkamura), Sebastian Pecchia (Riverside).
Mixed by Peter Walsh
assisted by Lorenzo Moka Tommasini at Macinarino Studio
Mastered by Kai Blankenberg at Skyline Studios (Düsseldorf)
Performed, produced and arranged by Hector Zazou
Executive producer: Jean Michel Reusser
Hector Zazou: "It was once again Jacques Pasquier who had the idea of setting to music Rimbaud's poems: he had asked me to compose something for the 100th anniversary of Rimbaud's death, which was being celebrated at the Grande Halle of La Villette. It had to be a kind of ambient music for an event that lasted 24 hours. I suggested a collaborative work between Sakamoto, Sylvian, Laurie Anderson and myself. I can't remember exactly why Laurie Anderson didn't take part in the project. We went in the studio and came up with a work in progress, and Jacques wanted to finalize it on record. The other guests came later, gradually, as Jacques was able to find the money to pay them. There was no serious problem or misunderstanding with any of these people. Even with David Sylvian, who didn't want the songs he sang to be included in the final version of Sahara Blue (there is another version in which he sings on two tracks). He never explained his reasons for refusing, and this hurt me; but time has passed and we are in touch again now".
Gallery