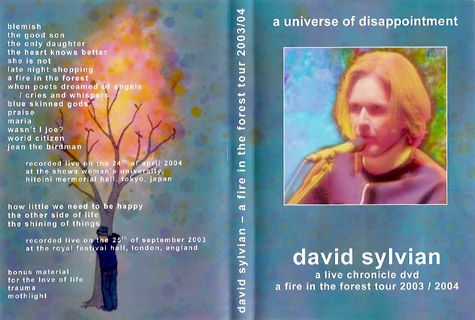 Released at December 1, 2004
A live chronicle dvd of the fire in the forest tour 2003 - 2004.
Normally, I don't list home-made boots but this one seems to be so known amongst fans and also widely spread (mainly because of the lack of an official release).
The quality of the video (the first part) is perfect, as this is the japanese analog TV broadcast (15 August 2004 on NHK BS2) of the concert in Tokyo on April 24th 2004.
The second part of the dvd (missing files from the TV broadcast) have been taken from bootleg footage of the concert in London, September 25th, 2003.
There's also some 'bonus' material (For The Love Of Life, Trauma and Mothlight).
Full tracklist:
Video from Tokyo, 24th of April 2004:
1. Blemish
2. The Good Son
3. The Only Daughter
4. The Heart Knows Better
5. She Is Not
6. Late Night Shopping
7. A Fire In The Forst
8. When Poets Dreamed Of Angels / Cries And Whispers
9. Blue Skinned Gods
10. Praise
11. Maria
12. Wasn't I Joe?
13. World Citizen
14. Jean The Birdman
Video from London, 25th of September 2003:
15. How Little We Need To Be Happy
16. The Other Side Of Life
17. The Shining Of Thing
Bonus material (no video):
18. For The Love Of Life
19. Trauma
20. Mothlight
The artwork is done professionally and contains no errors. Extra is the inlay 'canvas', which contains some pictures and the full tour date list plus credits.
No credits about the manufacturers of the dvd can be found.
Gallery