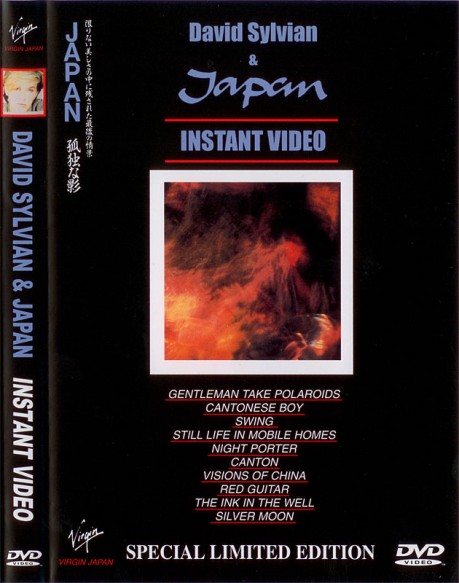 Released at March 1, 2002
Japanese bootleg DVD
Video list:
Gentlemen Take Polaroids
Cantonese Boy
Swing
Still Liffe In Mobile Homes
Nightporter
Canton
Visions Of China
Red Guitar
The Ink In The Well
Silver Moon

The days of the crappy videos are over. The first sighted DVD bootleg featuring David Sylvian. The DVD contains two complete japanese laserdisc videos: Instant Pictures and the 3-track promo video. In total, the DVD contains 10 tracks, of which 3 are the solo promo videos: Red Guitar, The Ink In The Well and Silver Moon.
The quality of the beautiful DVD disc is very good and the DVD even contains hidden chapters, containing the Virgin copyright messages on the Instant Pictures part and the EMI copyright notices at the end of the 3-track promo laser. All tracks can be individually played as there is a start-up menu included.
The inlay artwork is also very well done. It states that there are only 500 copies made and each is numbered individually.
DVD is region 1 and 2, NTSC.

The only place that seems to be offering it at the moment is eBay, where it can be bought for around $50. Considering the artwork, the DVD itself and the picture quality it is well worth the money.
Gallery