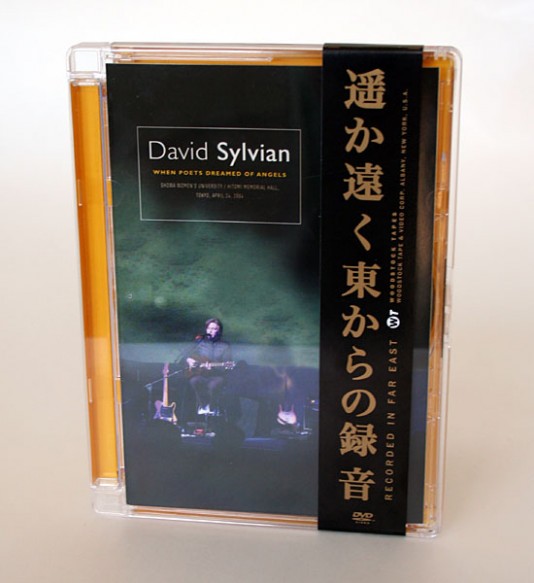 Released at September 8, 2008
It says Woodstock Tapes as label but on online shops Intergroove is always mentioned as manufacturer.
Broadcast quality DVD with live registration of show in Tokyo, 24-04-2004
Wonderful packaged DVD with the registration of the show on April 4th, 2004 at the Showa Joshi Hitomi Kinen Kohdohin in Tokyo (Japan).
The DVD was actually meant to be a legal release and was late 2008 already listed on several online shops, including Amazon. David's management wasn't aware of the release and gave no permission for it. At that time, many copies were already produced and scattered all over the world. Today, it can easily be found on add-listing sites in Europe.
On the DVD you'll find the Fire in The Forest 04 concert on April 24 at the Showa Joshi Hitomi Kinen Kohdohin in Tokyo (Japan), which was recorded for Hi -Definition Television broadcast by the Japanese TV station "NHK". The show was broadcast on 30 July 2004 from 11:45pm to 1:15am (Tokyo time) in High Vision TV format (digital format) in Japan. and repeated for normal TV on 15th August as 11.45pm (Tokyo time) on channel NHK BS2.
The show as shown was incomplete. Songs that were cut for the broadcast are How Little We Need to be Happy, The Other Side of Life, and The Shining of Things.
Full tracklist
Blemish (4:23)
The Good Son (5:27)
The Only Daughter (5:38)
The Heart Knows Better (7:14)
She Is Not (1:23)
Late Night Shopping (3:01)
A Fire In The Forest (5:18)
When Poets Dreamed Of Angels (2:05)
Cries And Whispers (2:21)
Blue Skinned Gods (4:37)
Praise (4:38)
Maria (4:25)
Wasn't I Joe? (13:31)
World Citizen (5:35)
Jean The Birdman (5:44)
Total: 1:26:11
Excellent broadcast quality, well mastered DVD. It really should have been a Samadhi release.
Gallery
Tracklist