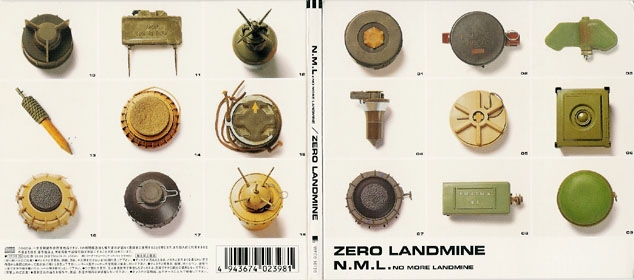 Released at April 25, 2001
Charity single. Organized and conducted by RS, lyrics co-written by David Sylvian. Featuring David Sylvian, Brian Eno, Yukihiro Takahashi, Haruomi Hosono, DJ Krush, and more.
Full tracklist:
1. Zero Landmine (18:27)
2. Zero Landmine (Piano + Vocal version – vocals+lyrics by David Sylvian) (4:46)
3. Zero Landmine (Piano + Cello version w/ Mari Fujiwara) (5:28)
4. Zero Landmine (Short version) (4:59)
5. Zero Landmine (Piano version) (5:22)
6. Zero Landmine – THE TRACK (is in fact the instrumental version of track 4) (4:59)
The 6-track campaign EP for Zero Landmine by Ryuichi Sakamoto (producer) featuring guest musicians Kraftwerk, Brian Eno, Cyndi Lauper, David Sylvian, Talvin Singh and loads more! Also features messages from Princess Diana and Dalai Lama.
David wrote the lyrics for this campaign song and is featured on track 1 and 4 with a few lines (which is a sort of We Are The World track) and track 2 is the full vocal version with Ryuichi on the piano. An extremely beautiful track in a more than outstanding packaging. Detailed information about the landmine situation in the world is added on a foldout in this superb digipack.
Gallery
Tracklist