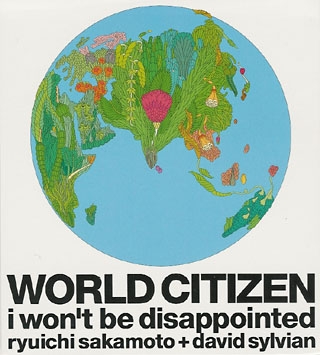 Released at October 8, 2003
World Citizen is the song for J-Wave's 15th anniversary.
Beautiful digipack with inlay (including lyrics).
Engineered by Fernando Aponte
Assisted by Jason Stasium
Mixed by Fernando Aponte, Ryuichi Sakamoto
Mastered by Ted Jensen at Sterling Sound
Associate producer and creative director: Norika Sora/sky
Production management: Evan Balmer
Art direction & Design: Hideki Nakajima
Design: Masami Furuta/Nakajima Design
Illustration: SOLOBOGNU-SENSEI
illustrator Coordinated by Kosuke Hattori/Warner Music Japan
A&R: Satoshi Nakashiro | Warner Music Japan
Assistent A&R: Makiko Baba | Warner Music Japan
Public Relations: tetsuya Ikeda | Warner Music Japan
Sales promotion: Rie Kodama | Warner Music Japan
Product management: Akiko Kato | Warner Music Japan
Executive producers: Hiroshi Inagaki | Warner Music Japan, Ryuichi Sakamoto | KAB Inc.
Special thanks to: Ingrid Chavez, Richard Chadwick, Adrian Molloy, Arto Lindsay
David writes on his own site:
Some months back Ryuichi instigated the chain-music project. A chain letter in musical form, anti-war in origination. He originally asked me to write a set of lyrics for the project. Initially I felt apprehensive about taking on such weighty subject matter lyrically. In a very real sense this approach to lyric writing is the antithesis to my own. I also happened to be travelling at the time the request reached me so, reluctantly, I felt I had to turn it down. However, as the week wore on I found myself pacing the streets of London with the beginnings of an idea for a piece called World Citizen.

On my return to the US, I found the chain-music composition waiting for me. My immediate response to the piece was to repeat two lines at the heart of the composition, one of which was the phrase World Citizen. The title resonated in a simple way. A necessary redirection of focus away from the national towards the global. That evening I penned the song World Citizen. I recorded a one-take demo a week later and sent an MP3 file to Ryuichi to see if, in his opinion, the piece was worth pursuing. The initial response was muted. A few days later Ryuichi said that he liked the concept of World Citizen and wondered if we couldn't write a more pop orientated piece with the same title. After a few false starts Ryu sent a loop of a sampled piano. To this I composed and recorded the lyric and melody of the song and returned the files to Ryuichi. He passed them onto Harumi Hosono and Yukihiro Takahashi (Sketch Show) who made valuable contributions to the piece.

It was at this time that Ryuichi called and suggested we record the version of World Citizen I'd originally sent to him. We spent a week putting the piece together in NY with Ska Sverrisson (Laurie Anderson) on bass, Amedeo Pace (Blonde Redhead) on guitar and Steve Jansen on drums. Ryuichi and I mixed the piece together in NY.

The following week Ryuichi returned to the composition now known as World Citizen (I won't be disappointed), finally making a connection with the song, completing it with rhythm, melody and producing the final mix.
David Sylvian September 2003.
Gallery
Tracklist