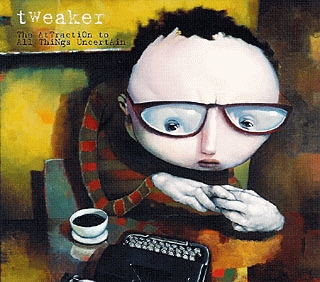 Released at January 18, 2003
bonus tracks!
Tracklist
Linoleum (featuring David Sylvian) 4:31
Years From Now 2:47
Swamp 4:20
Turned 2:33
Happy Child (featuring Will Oldham) 4:28
The Drive-bye 4:30
Take Me Alive (featuring Craig Wedren) 4:25
Susan 2:47
Microsize Boy 3:12
Full Cup of Coffee 3:53
Empty Sheet of Paper 3:39
After All (featuring Craig Wedren) 5:10
Come Play 4:50
Swap (vocal version) (featuring Jonah Matranga)*
Linoleum (The Josh Wink Interpretation)*
Linoleum (Paul Leary remix)*
* Bonus tracks
Identical (packaging) to the regular version, except for the bonus tracks (2 Linoleum tracks!!), an extra booklet with liner notes and lyrics and of course the obi.
Written and Produced by Chris Vrenna
Produced by Chris Vrenna except "Happy Child" produced by Chris Vrenna and Peter Reardon
All songs written by Chris Vrenna except "Linoleum" written by Chris Vrenna & David Sylvian, "Swamp" written by Chris Vrenna & Buzz Osborne, "Happy Child" written by Chris Vrenna & Will Oldham, "Take Me Alive" written by Chris Vrenna & Craig Wedren and "After All" written by Chris Vrenna & Dallan Baumgarten
All songs published by pink lava/ALMO Music Corp (ASCAP) except "Linoleum" published by pink lava/ALMO Music Corp (ASCAP) and Opium (Arts) Ltd. (PRS), "Swamp" published by pink lava/ALMO Music Corp (ASCAP) and B. Osborne (Copyright Control), "Happy Child" published by pink lava/ALMO Music Corp (ASCAP) and Royal Stable Music (ASCAP), "Take Me Alive" published by pink lava/ALMO Music Corp (ASCAP) and Sony/ATV (BMI) & "After All" published by pink lava/ALMO Music Corp (ASCAP) and Dallan and sepsis (ASCAP)
Engineered by Chris Vrenna, Rich Mouser, Dave Kent
Recorded at Amethyst Digital and The Mouse House, Los Angeles, CA, and Synergy, Napa, CA
Mixed by Paul Leary and Chris Vrenna at Blue World Music, Austin,TX
Mastered by Tom Baker at Precision Mastering, Los Angeles, CA
Additional Musicians:
Guitars: Dallan Baumgarten, Mark Blasquez, King Buzzo, Wayne Kramer,
Rich Mouser, Clint Walsh
Violins: Petra Haden
Turntables: DJ Swamp
Management: Waxploitation Entertainment, Los Angeles, CA info@waxploitation.com
A&R for Six Degrees: Bob Duskis
A&R for Waxploitation: Jeff Antebi
Business Affairs: Sendyk & Leonard
Legal: William Berrol, Esq.
Art Concept: Chris Vrenna
Art Direction/Design: Ben Tripp
Cover Painting: Joe Sorren
Photography: Roxann Arwen Mills
Gallery
Tracklist