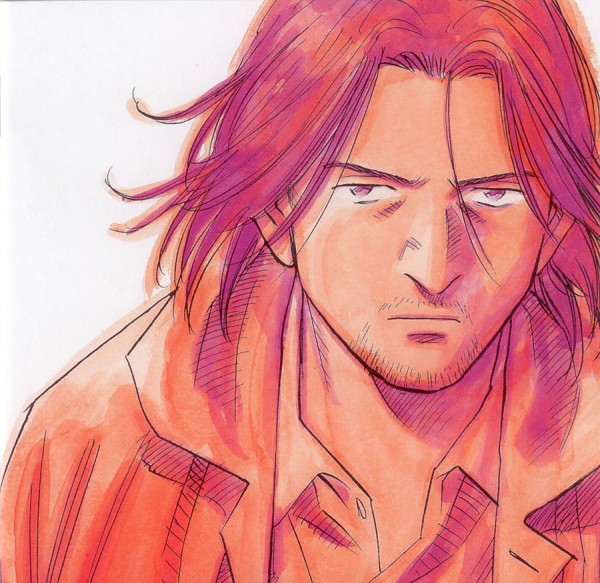 Released at June 23, 2004
Monster (original Soundtack) by Kuniaki Haishima
Very beautiful package: the CD case comes in a black slipcase and features a 12-page booklet and a sticker (with the same picture as the front of the booklet).
For The Love Of Life is the track that David wrote for animated TV version of one of the most successful Manga comic series ever printed. "Monster" is the work of acclaimed Manga author Naoki Urasawa.
David Sylvian quote in the booklet
I was attracted to the Monster material by the moral dilemma faced by its central character.
The calm surface of the music giving way to darker undercurrents signifying the conscience of the lead protagonist and the themes of morality, fate, resignation, and free will.
David Sylvian
The animation series started on April 6th 2004 in Tokyo and its surrounding area, while in other areas it started on April 12. At the moment, it's screening is limited to Japan only.
In the credits of the TV-series the following credits are given:
"For The Love Of Life"
lyrics & vocals by: David Sylvian
composed by: David Sylvian & Haishima Kuniaki
music by: Haishima Kuniaki
Ending Theme to "MONSTER"
Tracklist:
For The Love Of Life (Ending Theme Full Version)
GRAIN (Opening Theme)
Drift Mind
Part
float flower
Collage man
Sweet home
gingerly
NACHT TOUR
Xenia
ROOM
idler wheel
bush
drift
medium shot
rest
SWEEPER
be lit up
Decola
mid point
twin
gossip
RED LINE
angel hand
EXTRA TRACK:
art board slide show (background music Drift Mind)
Not that all title are listed as printed in the booklet.
All tracks written by Kuniaki Haishima
Except tr. 1 Music by David Sylvian & Kuniaki Haishima, Lyrics by David Sylvian
Produced and arranged by Kuniaki Haishima.
Gallery
Tracklist