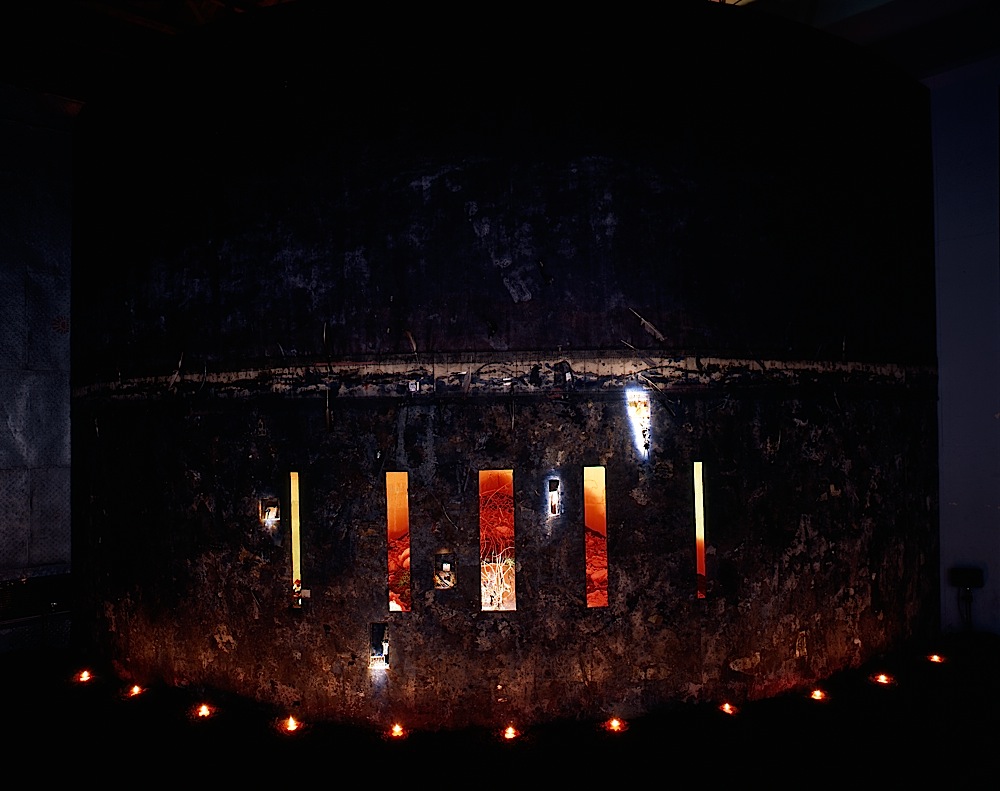 September 29, 1990
Artwork by Russell Mills, installation by Russell Mills and David Sylvian, assisted by Ian Walton.
Ember Glance – The Permanence Of Memory
an installation of sculpture, sound and light by David Sylvian and Russell Mills. 29 September – 12 October 1990
Staged at the Temporary Museum (F-GO SOKO: T33 Warehouse) on Tokyo Bay, Shinagawa as part of a series of experimental exhibitions, installations and performances conceived and produced by national and international artists at the invitation of Tokyo Creative '90.
Gallery
Ember glance catalogue flyer

Ember Glance catalogue flyer

'arc' - drawing from russellmills.com

'arc' - ember glance, from russellmills.com

'arc' - ember glance, from russellmills.com

'mirror'- ember glance, from russellmills.com

'mirror' - drawing from russellmills.com

'mirror view' - ember glance, from russellmills.com

'mirror view'- ember glance, from russellmills.com

'lightboxes' - drawing from russellmills.com

'lightboxes' - ember glance, from russellmills.com

'lightboxes' - ember glance, from russellmills.com

'lightboxes'- ember glance, from russellmills.com

'veils view'- ember glance, from russellmills.com

'boxes' - drawing from russellmills.com

'boxes'- ember glance, from russellmills.com

'view with cloud' - drawing from russellmills.com

'view with cloud' - ember glance, from russellmills.com

'wall' - drawing from russellmills.com

'wall and cloud' - ember glance, from russellmills.com

'pool' - drawing from russellmills.com

'pool' - ember glance, from russellmills.com

'Ember Glance' - drawing from russellmills.com