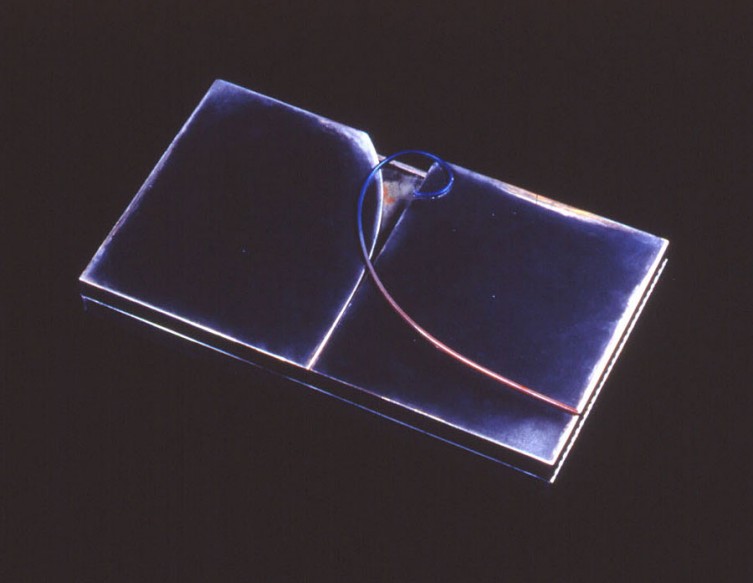 Released at November 1, 1991
Ember Glance: The Permanence Of Memory was an immersive multimedia installation by David Sylvian and Russell Mills, staged at the Temporary Museum, F-GO SOKO: T33 Warehouse on Tokyo Bay, Shinagawa (29 September – 12 October 1990) as part of a series of experimental exhibitions, installations and performances conceived and produced by national and international artists at the invitation of Tokyo Creative '90.
This special is not about the Ember Glance exhibition itself, but about the prototype Ember Glance: The Permanence of Memory handmade box set.
A big thanks goes to Sven Jacobs for making the detailed pictures available for the public.
The box and its contents were designed and made by Mills as a prototype towards the proposed limited edition set. The box, measuring 51 (L) x 29 (H) x 5.6 (D) cms, has two interlocking folding doors, and is made of wood, resin and metal, which has been hand-stained and painted by Mills to resemble gunmetal. Internally each section has areas of embossed and chased moulding and various insets, which hold the various component parts.
Inside left door: a relief typographic nameplate carrying information about the Ember Glance: The Permanence Of Memory installation i.e. title, names, venue and dates; inset, a rectangle of hand-made, blood red paper signed by David Sylvian and Russell Mills.
Inner left box: inset, a mock-up of the proposed book, which is covered in a unique watercolour by Mills, tied with a russet-red silk ribbon.
Inner right box: a mocked-up soundtrack CD with a watercolour by Mills serving as its label (this CD is a blank and is permanently adhered to its base); inset, colour photocopies of details of Mills artworks prepared as a mocked-up set of thin, long postcards tied with a russet-red silk ribbon.
Inner right door: a rectangular handmade sculptural assemblage. Inset with embossed and chased relief modelling containing a fishing fly, one loose and one fixed marble, a feather, two golden beads, industrial swarf, canvas, and loose sand, which shifts whenever the box is moved, augmented by areas of hand painting in oil and acrylic. The moveable assemblage is sealed within a sheet of Perspex silkscreened in two colours.
With Virgin Records, Russell and David proposed to produce and release a limited edition series of 750 copies. It was intended that the box carcasses would have been made by machine and then Mills would complete each by hand.
Unfortunately, Virgin Records, having failed to research into the appropriate potential market for such an art object, also seriously miscalculated the probable production costs that would have been incurred in order to create such a unique series. Subsequently and sadly, the project was eventually cancelled.
The following text is from the Japanese Ember Glance: The Permanence Of Memory flyer announcing and describing the proposed limited edition box:
The edition of 750, signed and numbered by the artists, will include a 100 page full colour book bound in an original lithograph by Russell Mills, a CD containing the music created specifically for the installation by David Sylvian (in collaboration with Frank Perry), a selection of postcards (including work by leading photographers The Douglas Brothers), all contained in an impressively designed presentation box. In addition, set within each copy of the catalogue, Russell Mills has created a hand-finished artwork incorporating fragments of the original elements from the installation itself.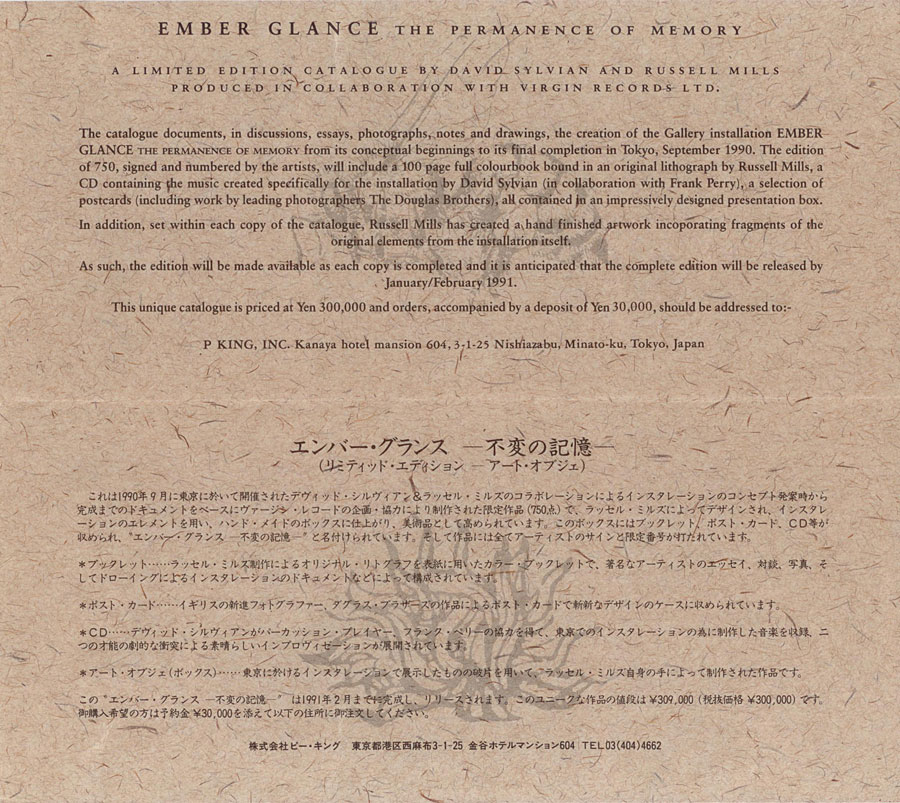 (thanks to Russell Mills for info and images)
Gallery
Prototype - book and ribbon

Prototype - postcards and ribbon

Ember Glance catalogue flyer

Ember Glance catalogue flyer