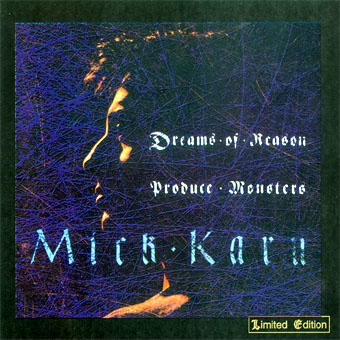 Released at August 15, 2000
Tracklist as original
At a glance:
Russian counterfeit with a single sheet inlay. This release is part of the so-called Japan Family series. Since there is no booklet, no credits have been included. Backside of front inlay is a local artist composition and mentions Davids name as Enlvian <sic>. The title is printed on this side as Dream Of Reason Produce monsters <sic> and also on the side of the case. Backlay artwork, transparent tray side is the picture that is printed on the back of the original booklet.
On the side of the transparent tray, "1987" can be read.
Compared with original:
They have only tried to make the front artwork as the original, but the inside, the back and the disc itself is completely different from the original.
Best:
The syntax errors on the inlay sheet and the completely different, own interpretation of the back artwork of this album.
On the front and back artwork as well as on the disc, this release it categorised as a Limited Edition.
On the disc is written: see booklet for details….. there is no booklet!
Gallery