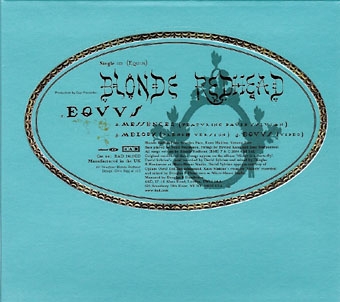 Released at May 24, 2004
Surprising commission!
The single, tracklist:
1. Equus
2. Messenger (featuring David Sylvian)
3. Melody (French version)
4. Equus (Video)
catalogue number:
CD – BAD2415CD
7″ – BAD2415
digital single – EAD 2415S
Artwork differs from the original press images (see link below). Simple digipack with a sticker on it.
All songs written by Blonde Redhead. Original versions of the songs appear on the album Misery Is A Butterfly.
David Sylvian's vocal recorded by David Sylvian and mixed by Douglas B. Henderson at Micro-Moose Studio.
David Sylvian appears courtesy of Opium (Arts) Ltd./Samadhisound.
Mastered by Douglas B. Henderson.
Art direction: Blonde Redhead
Design: Chris Bigg at v23.
Production by Guy Picciotto
Gallery
Tracklist