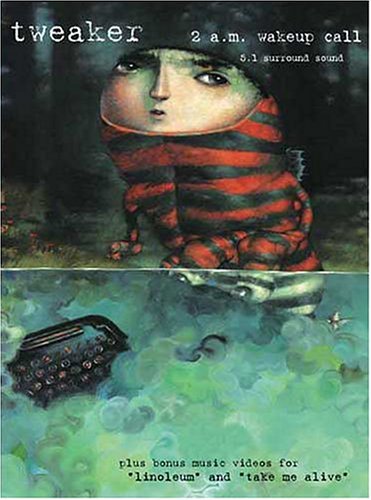 Published at January 23, 2004
On April 20 2004, the new album by Tweaker, 2am wake-up call, is released. ROBERT SMITH of the Cure, WILL OLDHAM (Bonnie "Prince" Billy) and DAVID SYLVIAN provide vocals on the new album by TWEAKER, the alias for former Nine Inch Nails programmer-drummer CHRIS VRENNA. The album, due April 20 from Waxploitation Records and iMUSIC, marks a strong step forward for Tweaker, with song structures taking precedence over the electronics of his past work.
The new album has been mixed, mastered, and advance copies are being sent out for review in April/May issue music magazines, and for play on college radio.
2am wake-up call features guest appearances by David Sylvian, Mellowdrone, Jennifer Charles, Will Oldham, and Robert Smith.
According to tweaker.net (defunct):
2 a.m. wakeup call is completed, mixed, mastered. The release date for 2AMWC is fixed at 4/20/04.
David's comments on the "Pure genius" track:
I was surprised by the number of people who commented enthusiastically on the collaboration between Chris and I first time around. I believe 'Linoleum' worked well but I personally feel happier with this, our second joint composition.
Chris was generous enough to allow me the pick of the album when it came to which track I'd like to work with. I loved the feel of this particular track, the strut and swing of the rhythm, the odd time signature. It set a narrative running in my mind.
The internal, self-delusional, dialogue of a bedroom genius which I felt lent itself to Chris' working title for the project."
d.s. Jan 2004
from Billboard.com
Edited By Jonathan Cohen. February 03, 2004, 10:40 AM ET
Smith, Marr Bolster Tweaker's 'Wakeup Call'
Former Nine Inch Nails drummer Chris Vrenna will release his second album under the Tweaker moniker on April 20. The forthcoming set, "2 a.m. Wakeup Call," will feature guest vocals from the Cure's Robert Smith, David Sylvian, Will Oldham and the Walkmen's Hamilton Leithauser, among others. Additionally, the Smiths' Johnny Marr guests on guitar.
Also lending voices to "2 a.m. Wakeup Call" are Jennifer Charles from Elysian Fields and Jonathan Bates, who performs under the name Mellowdrone. In a statement, Vrenna says the album was inspired by his wife's battle with insomnia. "She would bolt awake every night, strangely, at exactly the same time — 2 a.m.," says Vrenna. "It led to me sharing her insomnia and I wound up staying up with her and discovered that when the world-at-large was fast asleep I had unearthed a wealth of creative energy in myself … It's a nighttime record about things that keep us up at night."
The 12-track album will be released by Waxploitation/iMusic, and is Vrenna's first album as Tweaker since 2001's "The Attraction to All Things Uncertain." That set also featured guest vocals from Oldham and Sylvian.
Vrenna and his frequent collaborator Clint Walsh produced the new album, described as a departure from the electronic and industrial-leaning atmospheres found on "All Things Uncertain."
Here is the track listing for "2 a.m. Wakeup Call:"
"Ruby" featuring Will Oldham
"Cauterized"
"Worse Than Yesterday" featuring Mellowdrone
"Truth Is" featuring Robert Smith
"Remorseless"
"Pure Genius" featuring David Sylvian
"It's Still Happening" featuring Hamilton Leithauser
"2 a.m."
"Movement of Fear"
"Sleepwalking Away" featuring Nick Young
"The House I Grew Up In" featuring Johnny Marr
"Crude Sunlight" featuring Jennifer Charles
— Todd Martens, L.A.