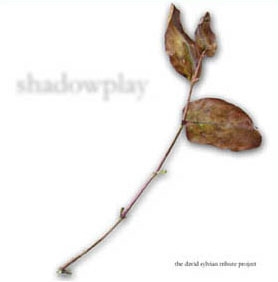 Released at November 24, 2001
Martin Bostock and appropriate artists.
Shadowplay was a tribute album.
From David Sylvian fans for David Sylvian fans. This project was initiated by Martin Bostock and had been approved by David Sylvian and his management Opium (Arts) for only 500 copies to be made.
The quality of the tracks and the artwork by Martin himself, made this record an item that could not be missed in any David Sylvian collection.
Unfortunately, the Shadowplay tribute album will not be released. Due to lack of interest, and therefor high production costs, this wonderful project was stopped by it's initiator Martin Bostock on 24 November 2001.
I'm still hoping that one day, a sponsor will take care of the financial part, so that Martin will be able to release this album eventually.
Tracklist:
Porl Shaiman – Let The Happiness In
Martin Hall – Nostalgia
Par Avion – Silver Moon
Chamaeleon – Blackwater
Henrik Fevre – Lilith
The Minor Splits – Ghosts
Darshan – Wave
Charles Storm – Weathered Wall
Platform One – Methods Of Dance
Igor Len – Damage
Grape – Before The Bullfight
Davies – Rio Negro
Martin: "It's with a heavy heart that I write this! I have spent the day evaluating the chances of getting the Shadowplay CD released, and weighing up the number of pre-orders against the amount of time it has taken to get them. It seems very unlikely that this project will reach fruition ( at the rate I have calculated, it will be 2007) . I am deeply indebted to all the artists who dedicated their time and effort to the project and can only offer my sincerest apologies that I wasn't able to see the damn thing released.
Gallery