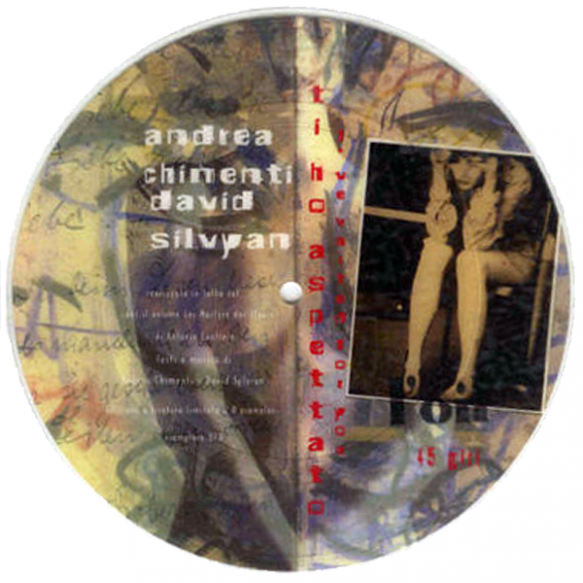 Released at January 15, 2009
Andrea Chimenti / Antonio Contiero
Limited to 8 vinyl discs, this is a hard and maybe impossible to get vinyl edition of Andrea and David's duet.
This vinyl 7 inch edition of Andrea Chimenti and David Sylvian's – Ti Ho Aspettato concerns an art work made by Antonio Contiero; an extraordinary artist who asked Andrea to use some songs in order to realize some book/disc as unique pieces in strictly limited editions in vinyl (2 or 3 copies for each song).
Antonio Contiero explained that the pieces have been produced by hand through lathe cut. The earnings of the few unique pieces sold on the internet will be used for the building of a school in Tibet.
The vinyl record is enclosed in the poem book "Le martyre des fleurs", written by Antonio Contiero himself, that was realized with hand papers made in 32 numbered copies and not for selling. Two of them have been sold on the internet (eBay) in order to earn funds.
The book is printed on hand made paper and there's a lathe cut inside a special box on red marocchino leather, printed wood and photographs printed on Japanese Hodomura paper. Antonio has to send a copy to David with a short explanation of the project.
Original text used on eBay for raising money for the school in Tibet:
Andrea Chimenti – David Sylvian – Ti ho aspettato (I've waited for you) 7″ picture disc in lathe cut (edizione di 8 esemplari – il ns. n.6)  il disco ha una sola facciata incisa.
Pubblicato in allegato al libro di poesie Les Martyre des Fleurs di Antonio Contiero con un commentocritico  di Paolo Lagazzi in 32 copie numerate nel 2006 edito dalla Pietra Infinita . 
www.lapietrainfinita.com
La grafica e le fotografie sono di Antonio Contiero. Il vinile inciso al tornio manualmente secondo la tecnica del lathe cut cos come vengono incise le lacche che verranno utilizzate come matrice.Picture disc on lathe cut in only 8 copies, this one it's the n. 3. it's a one sided 7″ 45 rpm.Published with the book of the italian poet Antonio Contiero called "Le Martyre des Fleurs" with a critical comment of  Paolo Lagazzi edited from La Pietra Infinita.
Graphics and photographs by Antonio Contiero
Gallery
Tracklist