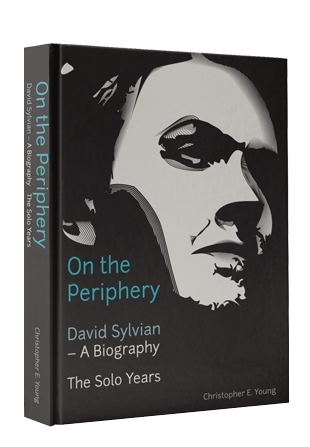 A new and extensive biography of David Sylvian is about to be published. The 384-page hard back book entitled On the Periphery has been researched and written over the space of 4 years, and tracks the evolution of Sylvian's solo career from 1982 up to the present day.
The book has just received the relevant permissions and licences from Sylvian's copyright holders to be released, and publication date is December 12th. Chris Young, the book's author, explains what it is about.

Read more or go directly to the official site of the book: sylvianbiography.com

"On the Periphery considers the rationale behind — and consequences of — David Sylvian's leap from the secure and well-trodden path of short-lived but highly lucrative pop stardom, into the relatively unknown territory of more avant-garde, experimental, and non-commercial genres. A move to the periphery of the music scene!"
"The spur to pursuing a solo career for Sylvian was to begin to feel artistically true to himself. Once the die was cast, and the decision to leave Japan was made, Sylvian pursued a path that has seen him evolve into one of the seminal experimental composers of our time. The place he now holds in the music scene is absolutely unique, a fusion of so many different textures, collaborators, themes, and influences that the heady brew that exists today cannot be replicated by any other musician."
"His offerings are always varied, but one thing remains without dispute, they are always very identifiably his. At their heart has been the quest for self-awareness that tracks through his entire solo career, and his motivation for writing music which is to help people refocus on the essence of their own nature and spirit, aspects of the self that tend to get buried or ignored in daily life. Music for Sylvian truly is a reminder of our essential selves."
On the Periphery tracks Sylvian's solo career from 1982 – 2013, knitting together the story of his personal, spiritual, and musical evolution. It is a fascinating insight into the world of one of music's most enigmatic artists.
You can access excerpts from the book, find out about the full content and the author, and order it on-line at www.sylvianbiography.com
Contents
Part 1: Finding the Right Vocabulary (1982–1987)
Now I Find Myself Alone
A Better World Lies In Front Of Me
An Index Of Possibilities
Those Days Are Gone
Game Is Lost Again
Part 2: The Path to Redemption (1988-2002)
Pulled By The Undertow
Moving To The House of Love
Collapsing Into Joy
Grace Is An Acquaintance of Mine
Once the Bullet Leaves
Part 3: The Grey Skies (2003-2013)
Truth Sets In
Straighten That Tie
The World Is Everything
Evening Up The Score
Songs For The End Of Time
Shadows Hold Their Breath
Waiting to See Us Home
About the author: Christopher E. Young
Chris Young was born in 1966, and has been a professional writer for over 25 years. A former journalist with the Sunday Times, he has written for numerous newspapers, magazines, and on-line media all over the world.
A long-standing follower of David Sylvian's career and music, he was prompted to write a book about the composer by his now late father, a classical musician and PhD in musicology, who had a profound interest in Sylvian's more recent compositions, and especially his work in the area of free improvisation.
Chris travelled the world while researching this book, and was in Tokyo at the time of the devastating earthquake in March 2011. Being in Japan at this time had a profound impact on him, as he witnessed first-hand the plight of so many people in the country.
As such, a proportion of the royalties from the sale of On the Periphery will be made to the Japan Society Earthquake Relief Fund. Individual donations can be made at www.japansociety.org.uk/earthquake
Chris lives in Heswall on the Wirral Peninsula, and is married to Marie.
Details
Hardback: 384 pages
Publisher: Malin Publishing Ltd
Language: English
ISBN: 978-0-9927228-0-7
Product Dimensions: 234 x 153 mm
Price: £24.99 / €29.50 / $39.98