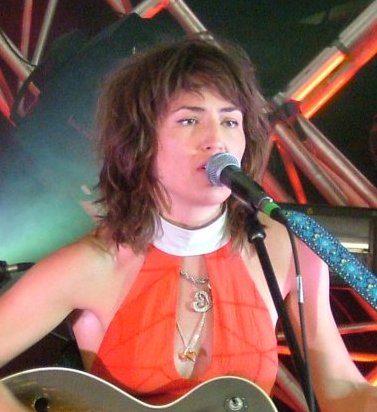 Published at August 15, 2014
Joan Wasser (born July 26, 1970, in Biddeford, Maine) is a violinist and singer/songwriter in the indie rock world. Her best known album is Real Life, released in 2006 under the moniker Joan As Police Woman.
She went on to study classical violin at university, and was drawn to new compositions written for smaller ensembles. She started pushing the boundaries on her violin, and with a head full of wild dark hair with a white streak up the middle, she performed regularly with local punk bands.
In 1994, she landed in Brooklyn, NYC, and began working as a session musician, playing her violin across every genre from Haitian to pop and r&b. She became a member of Anohni's ensemble (formerly Antony and the Johnsons) and recorded, I Am A Bird Now. In 2002, Joan As Police Woman was born, named in homage to the 1970s television cop show starring Angie Dickinson. She began touring with Rufus Wainwright for his Want One and Want Two albums, playing in his band and as his opening act. For her EP, Joan As Police Woman played as a simple duo, with Ben Perowsky on drums, and eventually added Rainy Orteca on bass.
Her first record, Real Life, earned the band "Best Rock and Pop Album," at the Independent Music Awards. Her second album,To Survive, was chosen in 2008, as one of Q Magazine's, "Albums of the Year."
Joan has spoken often of how vital music and music-making is to her life. "I can comfortably say that music has saved my life. I am a devotee. It's not something I can even choose or not choose, it's just what it is."
Alongside consistent touring and album making, she says yes to almost every project or collaboration she is offered, noting, "I just want to be making music all the time." This has led to a large and diverse list of co-collaborators: Tony Allen, Damon Albarn, Lou Reed, Beck, Afel Bocoum, Meshell Ndegeocello, Toshi Reagon, David Sylvian, Benjamin Lazar Davis, Sparklehorse, Laurie Anderson, Sufjan Stevens, John Cale, Aldous Harding, Woodkid, Justin Vivian Bond, RZA, Norah Jones, Lau, Doveman, Rufus Wainwright and Daniel Johnston.
Recently, Joan had the pleasure of subbing for Guy Garvey, of the band Elbow, on his BBC 6Music show, Guy Garvey's Finest Hour. In 2017, she and pianist, Thomas Bartlett (Doveman), co-wrote the film score for Permission, directed by Brian Crano. In early 2019, Joan took a look back at her first fifteen years of music, and gathered together songs for a triple-disc compilation album, Joanthology, which also became an extensive and hugely acclaimed solo world tour.
Joanthology features over thirty of her most loved songs, alongside BBC live performances. Curated and sequenced by Joan, with manager Tom Rose (who discovered and released her earliest recordings), this collection showcases Joan's depth of musical vocabulary, her strong ability on several instruments, and her rich quality of writing and production. It further exemplifies Joan's solid standing as an important artist, collaborator and muse, to both audiences and fellow artists and musicians.
Gallery