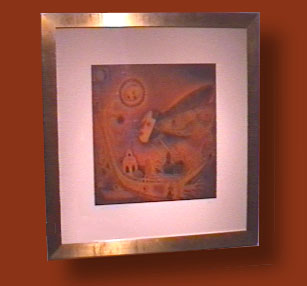 Published at December 9, 2000
Promotional limited edition of 50 copies.
Signed by David at the lower left corner and numbered in the lower right corner. I"m not sure if Russell Mills is involved at all.
The print measures 18″ x 18″ and is matted in a square, antique-gold painted frame, 31½" x 31½".
Although distributed for promotional use only, a couple of them were used as main prize in contests and in Januari 2001, one print was sold on eBay for US$750. Extremely beautiful frame work and definitely one of the most wanted Sylvian collectables.