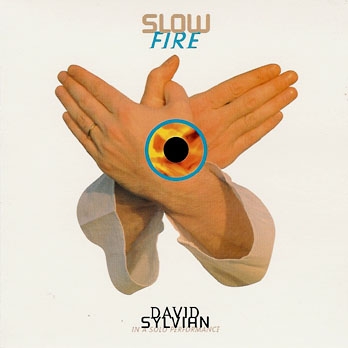 Released at January 1, 1996
Sharman Arts CSY 9011/2, 1999
Slowfire concert of Kannai Hall, Yokohama (oct 11 1995).
The very first pressed (silver) CD's of the Slow Fire tour. Beautiful!!
This is a 2 CD-set with excellent artwork taken from the tour programme and flyers.
The sound quality is good. It's definitely an audience recording, with a very bright sound (remastered?) Unfortunately, occasionally the sound is clipped.
The CD-set contains the full Slowfire concert of Kannai Hall, Yokohama (oct 11 1995). The last two tracks of the 1995 recording is on the second CD, followed by a First Day concert, starting with a mix of an excerpt from the spoken words of Robert Fripp from the Redemption exhibition with Soundscape.
Overall good quality but it seems to be rather expensive and limited.
Disc1
The Boy With The Gun
Red Guitar
Brilliant Trees
Jean The Birdman
Orpheus
Weathered Wall
Every Colour You Are
I Do Nothing (Hallelujah)
It'll Never Happen Again
Maria/Rain Tree Crow
Damage
September/Under Ingrid's Wheels
Blackwater
Before The Bullfight
Ghosts
Waterfront
total time: 69:14
Disc 2
Let The Happiness In
The First Day

Redemption/Soundscape
Firepower
Ascension
Under Ingrid's Wheels
Subtarranean Burn
The First Day
Jean The Birdman
20th Century Dreaming
The House In Which We Live
Protopunk
The Blinding Light Of Heaven
Urban Landscape

total time: 73:10
The people of the production of this set must really be into David's work, as this is the first time I actually see "Under Ingrid's Wheels" mentioned instead of Unknown or Ingrid's Wings.
Gallery