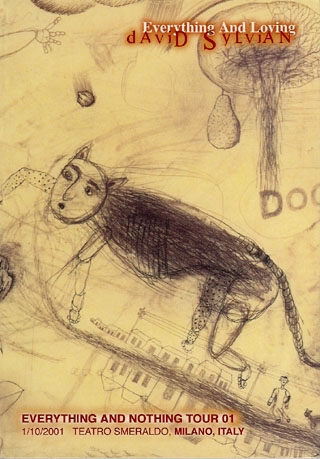 Released at December 2, 2001
Brilliant Tree Records BT2001-01, 2001
Milan Italy, October 1st 2001
Japanese (Hong Kong?) 2CD bootleg
A Japanese (or Hong Kong) bootleg of the Milan, Italy show (01.10.2001). The packaging is really superb. A very solid digipack, the size of a DVD box, with 2 DVD trays inside that hold the discs. The artwork is taken right of the tourbook and inside the pack a few other pictures of Fujiwara are used and can be seen through the transparent trays. The itinerary of the 2001 tour is also printed inside. On the back the tracklisting, unfortunately with quite a few errors (see listing). For the sound quality, see the footer notes of this item. Collectors only.
Disc1
The Scent of Magnolia
Black Water
Godman
I surrender
Jean The Birdman
Midnight Sun
Boy With The Gun
Orpheus
Waterfront
Heartbeat
Linoleum
Rooms Of Sixteen Shimmers
Ghosts
Disc 2
Pollen Path
Cover Me With The Flowers
Zero Landmine
Forbidden Colours
Kristina Blue
Nightporter
Bhajan
Wanderlust
The sound quality of this audience recording is good, but the pleasure of listening to it is spoiled by the numerous gaps in the tracks and the 2 second pauses between the seperate tracks. A real shame, that people take so much effort to produce a good package, but are not able to get this (well distributed) recording on the discs in a way that the listener would listen to it a second time.
Gallery