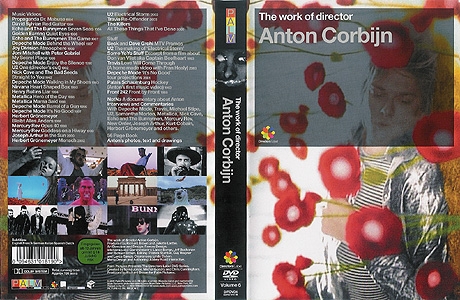 Released at October 17, 2005
The new DVD anthology of Anton Corbijn videos.
Finally an official DVD with the video clip of Red Guitar, directed by Anton Corbijn.
The Work Of Director Anton Corbijn is an anthology of Anton's work as a video director.
On the dvd you can find the following:
Music Videos
Propaganda – Dr. Mabuse
David Sylvian – Red Guitar
Echo and The Bunnymen – Seven Seas
Golden Earring – Quiet Eyes
Echo and The Bunnymen – The Game
Depeche Mode – Behind the Wheel
Joy Division – Atmosphere
Joni Mitchell with Peter Gabriel – My Secret Place
Depeche Mode – Enjoy the Silence
U2 – One (director's cut)
Nick Cave and The Bad Seeds – Straight to You
Depeche Mode – Walking in My Shoes
Nirvana Heart – Shaped Box
Henry Rollins – Liar
Metallica – Hero of the Day
Metallica – Mama Said
Depeche Mode – Barrel of a Gun
Depeche Mode – It's No Good
Herberg Groenemeyer – Bleibt Alles Anders
Mercury Rev – Opus 40
Mercury Rev – Goddess on a Hiway
Joseph Arthur – In the Sun
Herberg Groenemeyer – Mensch
U2 – Electrical Storm
Travis – Re-Offender
The Killers – All the Things That I've Done
Stuff
Beck and Dave Grohl – MTV Promos
U2 – The making of Electrical Storm
Some YoYo Stuff – Excerpt from a film about Don van Vliet aka Captain Beefheart
Travis – Love Will Come Through (A home made video with Fran Healy)
Depeche Mode – It's No Good tour projections
Palais Schaumberg – Hockey (Anton's first music video)
Front 242 – Front by Front
NotNa – A documentary about Anton
Interviews and Commentaries
With U2, Depeche Mode, Travis, Samantha Morton, Metallica, Nick Cave, Echo and The Bunnymen, Mercury Rev, New Order, Joseph Arthur, Kurt Cobain, Herbert Groenemeyer , and others.
56 Page Book
Includes Anton's photos and drawings.
In the book, Anton gives comments on every clip. About his work on Red Guitar:
David saw the Propaganda video on TV & subsequently approached me for this song, his first solo single since leaving the group Japan. I had photographed him a few times in that setting, he was often seen as a teenage-pinup, poster boy, very striking and introvert appearance. For him to ask me to direct this video was making a statement I  think. Anyway, it is again a challenge for me to come up with ideas and I spent a couple of days in Bruxelles in a hotel room to concentrate on that. I found it so difficult to come up with anything worthwhile – I am glad that that part of the process is less of a chore these days. What I came up with was basically
lots of images that have no connection to each other and the main image is based on a photo by Angus McBean. Angus was retired by this time but was a great surrealist and I called him up to get his permission to use the photo and we ended up with him in the video. He loved it, he was a great man to spend time with but I recall he couldn't believe he was on Top Of The Pops at age 80 and David's voice came out of his open mouth. I did one more video with David the same year and only photographs after that. The little boy in the video I found at the Lycie Frangais in London. Can't remember the name.
Gallery
Tracklist