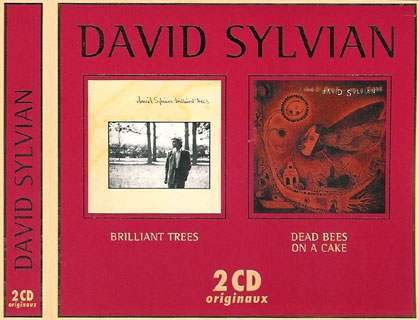 Released at April 1, 1999
Just a slip case containing 2 original releases
CD 1. Brilliant Trees (European version)
CD 2. Dead Bees On A Cake
The back of the cardboard slip-case features a French 'critic' column (translation see below)
The version that I have has all writing in French and the copyright notice is by Virgin France S.A. I would really appreciate more information on this item with/from other languages/countries. It looks like a cashing-in to combine these two releases: the best-sold Sylvian solo album attached to his latest release, just in the shops before the holiday season. Conclusion: for completists only.
I have no idea why it's called the Millennium Box. It is not even mentioined on the artwork. Looks like a smart marketing gimmick from Virgin.
Rough translation of the original notes written in French, on the back of the box (published by Sven Jacobs 28.02.2000 on the David Sylvian/Japan mailinglist):
1984. Spiritual son of Bryan Ferry and Brian Eno, David Sylvian in 1979 had founded the most excentric group since Roxy Music; Japan. As soon as succes arrived, he disbanded the group. That says enough without compromising the artist. But who could have thought that he would create for his first solo album a true masterpiece. That is the case with Brilliant Trees, consisting of 7 musical scenes where one can feel the influence of the cineasts Ozu and Kurosawa more than in all other New Wave music combined. Because they are literally transcended here, and very nicely put to work for a truly aesthetic project. With this sumptious and seductive record there appeared a new – and brilliant! – cannon of an ambitious pop without pretense. Accesible and of great class. 1999. After a discographical stop of several years, compensated by innumerable travel, marriage and other enriching occurances, David Sylvian return with something that feels like the result of twenty years of research. Dead Bees On A Cake is Brilliant Trees multiplied with the boundary-less "fin de siecle". No longer in 7 instalments but 14. Altogether painting a gripping and cloudy perspective, very open.
Gallery