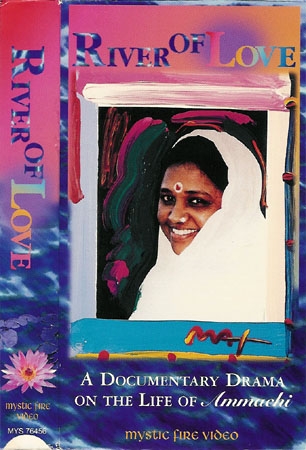 Released at November 1, 2000
Mystic Fire Video - MYS 76456
VHS video
River of Love is a documentary on the life of Ammachi, David's spiritual teacher. During the video, several tracks of David can be heard. According to myself (could be wrong though) parts of Preparations For A Journey, Awakening, Plight and Answered Prayers can be heard. His work is quite prominent on the video.
The film consists of a drama and a documentary of Ammachi's life nowadays.
The interesting part is the final credits. Besides M.J. Greenberg, David is also listed as Musical Director.
According to David himself, his role was really limited to his own work and that of advisor.
On Ammachi's website, the video (dvd) is no longer available.
Video credits:
A Dharmic Productions Presentation
Producer – Sridhar Steven Silberfein
Co-Producer – Shawn Brinsfield,
Amritakripa Director – Michael Tobias
Editors – Holly Taylor, Tina Johnston
Music – David Sylvian, Krishna Das, Jai Uttal, David Akash Spring, Firedance Project
Music Editor – M.J. Greenberg.
Running time: 87 min.
Format: NTSC
Gallery