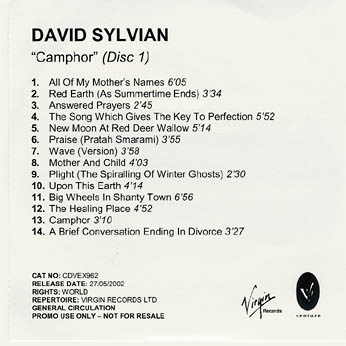 Released at May 27, 2002
Advanced promos on CD-R. No additional artwork
A predominately instrumental compilation album, a companion piece to 'Everything And Nothing', this release also featured a number of remixes and previously unreleased material. The original 2002 limited edition release also included a remix of the 'Plight and Premonition' CD.
Producer David Sylvian at Samadhi Sound Studios
Technical advice and assistance – Dave Kent
Remixes by David Sylvian.
Tracklist identical to the Camphor 2 CD deluxe edition.
Tracklist:
disc one
All Of My Mother's Names
Red Earth (as Summertime ends)
Answered Prayers
The Song Which Gives the Key to Perfection
New Moon at Red Deer Wallow
Praise
Wave (version)
Mother And Child (remix)
Plight (version)
Upon This Earth
Big Wheels in Shanty Town
The Healing Place
Camphor
A Brief Conversation Ending in Divorce
disc two
Plight
Mutability
Premonition
Gallery