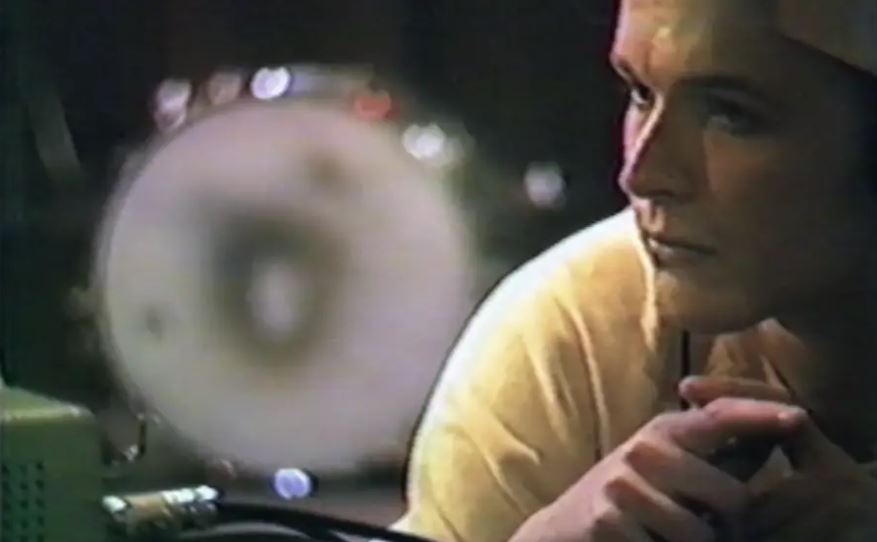 David Sylvian has posted an incredible 40-minute film of the Brilliant Trees sessions on the samadhisound vimeo account.
David writes:
Brilliant Trees sessions . Berlin . 1983 . raw camera footage
This raw footage shot on, what's now seen as a primitive camera but which was a top of the line consumer product at the time, a massive, unwieldily object, was documented by Yuka Fujii. I've put the material together in the order it was recorded to give a very general idea of the process of development. It's been my practice to work closely with each individual musician since my earliest days with the band in an attempt to get the best results. I've always maintained the band prepared me for working with others, gave me the confidence to work with my peers, the 'newcomers' in the room all being older than myself (25). At this point in time Ryuichi's english was very rudimentary (this was to change radically within the next ten years or so) so we had to communicate as economically as possible, or rather, 95% of the exchange was purely musical. Yuka and Peter Barakan would step in when greater explication was needed. Holger's english remained consistent throughout the years i knew him. Again, subtleties could be lost so the dialogue was relatively basic. These sessions in Berlin were my first step in creating what would become 'Brilliant trees' and my initial move away from the structure of the band. It was one of the happiest recording experiences I can recall while signed with a major label. Because of the success of having everyone meet in Berlin, a city native to no one involved, it felt like an adventure. People arrived with a spirit of openness and receptivity. I went on to repeat this process with albums such as 'Secrets of the Beehive', 'Rain Tree Crow', and 'The First Day' among others.
I've left a lot of Jon's conversation in as it's of interest. In one section he's explaining the nature of raga and how he came to it by working with renowned Indian singer/teacher Pandit Pran Nath. He was also intimating that, as 'Brilliant Trees' asked that he play in the western tradition, 'steps' as he describers it, he didn't see how his performance could be incorporated into the title track. I persevered. He returned to his hotel room that evening to work on it and, overnight, came up with something so beautiful and complimentary to the piece, that moved away from raga (outside of the coda), and gave us one of the rare, if not unique recordings, of Jon playing in the western tradition.
Besides the limited nature of my vocabulary, the paired down nature of our exchanges for the reasons given above, my only regret is that I didn't use Holger's guitar solo on 'Red Guitar'. At the time I felt it a little lightweight compared to the mix Steve Nye was prepping. I would now mix it quite differently pushing the drums way back (from the mid 70s through the 80s drums were often foregrounded, a trend I wasn't fond of. I fought for a change of approach on 'Beehive' and that's about the time when things began to resemble how I'd initially imagined the material. (There are always exceptions of course, 'weathered wall', 'Before the Bullfight' are just two examples). I loved Holger dearly and wish I'd imortalised his solo in some capacity. If it still exists on multitrack all is not lost.
I came away from Berlin with an incomplete album and preceded to write a few remaining pieces to complement the best of what I had. "The Ink in the Well', 'Nostalgia' and 'Backwaters' were added, 'Blue of Noon', an alternate version of 'Forbidden Colours', and a new track composed with Ryuichi were, with the exception of the latter, to find a home elsewhere. 'Blue of Noon' was originally a vocal piece but I felt this version didn't hold together and, in any case, was out of place in the context of the album. Virgin released a working rough mix of the track as the B-side of a single.
I hope the mutual respect and good humour of everyone involved comes across along with their seriousness and committed nature to the material. Rarely has this proved otherwise for me. In this respect I feel very fortunate. From this session I made lifelong friends, a trend that was to continue for many years to come.
david sylvian july 2021
in order of appearance: Ronny Drayton . David Sylvian . Ryuichi Sakamoto . Holger Czukay . Jon Hassell . Steve Nye.
© david sylvian / yuka fujii
no unauthorized copying, broadcasting without permission.
See it here:
brilliant trees sessions . Berlin . 1983 from Samadhisound on Vimeo.