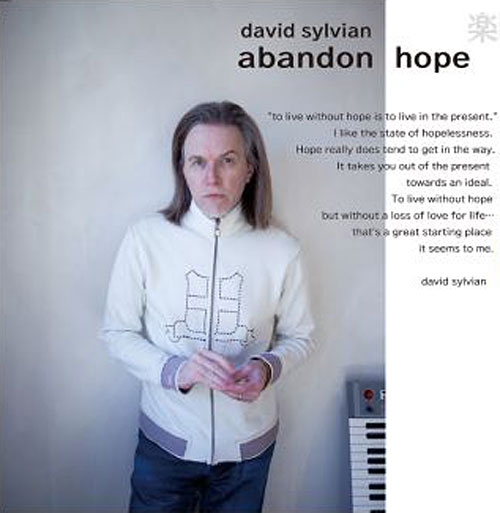 David wrote on Facebook: David acted as curator for the current art festival in the so called 'ghost town' of Uno, a port which has fallen on hard times, as part of the Setuochi Triennale Art festival. Composer, designer, photographer and label owner (12k) Taylor Deupree has provided a unique composition for the event available for rent or purchase on the rather attractive medium of the audio button (limited edition). Photographer Araki has created a series of arresting billboards for the port itself. Over the summer David will be holding photographic exhibits simultaneously in Uno and Tokyo which will go by the duel names of abandon / hope. more details to come.

Interview with Taylor Deupree
taken from headphonecommute,com:
You've been in a relationship with music for a very long time now. What are your thoughts on growing old with music? How do you feel it has transformed you as a human being?
well, i certainly feel older than i am.. but i hope i'm not too "old" just yet! i think anyone who is passionate about music would feel similarly; that music pretty much becomes a way of life. it's not just simply listening to music all the time but putting many aspects of your life into the musical context. whether it's my "day job" as a mastering engineer, or running the label, or writing music, reading about music, buying musical equipment, talking to friends about sound, listening carefully to my environment, photographing for music, the list goes on. i even equate cooking with writing music. the ideas of music can be applied to so many things in life.

Can you possibly define the particular aesthetic of ambiance and minimalism in your work and 12k releases? How has it evolved?
i don't know if i can write in specific enough terms to come up with strict definitions. i think one of the key things i think about when writing music is about creating something that doesn't particularly have a start or an end. a piece of music that just exists in time. as linear as music is i think in very non-linear terms when writing. i try to create a mood or a space and every sound i place in a song usually has a reason to be there. i try very hard to stay away from dramatic sounds or movements. it makes my music quite glacial at times. i usually joke with myself in saying that i create the most boring music possible. but, i think we need this in our lives. we need stillness and quiet. we need time to think and just be and to disconnect from the world.
my music has obviously evolved drastically from the early days of releasing techno, but in the past 10 or 15 years i'm not sure it has evolved as much as it has been refined. i'm always exploring new ways of composing, new instruments, new techniques. i don't think what i'm going to write, only how i'm going to write it.
Besides your personal compositions, I see your name pop up as a mastering engineer on more and more releases these days. Where do you find the time for all this production, and has 12k officially become your day dream job?
i basically try to turn all the things i love into a soup for making a living. unfortunately none of the things i've chosen i chose for the money, that's why i have to do so many things! none of it is particularly lucrative, but all together i can pay the bills. i don't like to sleep, and i'm usually tired, but i think if you're doing things you're really passionate about then you'll find the time one way or another.
In addition to painting gorgeous spaces with sound you're also a prolific photographer. I believe that most of this work is showcased on 12k album covers. And of course the Deluxe Edition of Faint contains 12 photographs you took with a hand-built plastic 35mm. Talk a about this particular medium and the integration thereof into your works as an artist.
when i was 15 i knew that i wanted to be a musician, there was no question about it. i also knew that i didn't want anyone to teach me how to make music. everything i've learned about writing, technology, studios, mastering, design, is all self-taught. the only thing i actually studied  among all that i do now is photography. it was my major at university. i chose this as my major because i knew that i didn't want to be a photographer. it might seem a bit backwards but i think self-teaching and absolute commitment and passion is the most true way forward on any path.
being able to handle most of the photography for the label just helps with the overall consistency and aesthetic. im the type of person who notices visual moments and really likes to experience the world through a photographer's eye. it's quite a natural extension of my creativity i think.
Here's a question I am particularly curious about. From following you throughout the years, I've gathered that you live somewhere north of New York City, in a rural area surrounded by woods. What part do you think your daily environment has played in your output as a multidisciplinary artist?
living here as definitely changed how i write music and think about art. the edges of my aesthetic have become worn and frayed. nature as roughened the clean lines i used to be so fond of. i've learned to find beauty in all of the flaws around us and the perfection of manufactured aesthetics isn't as attractive to me as it used to be. it's been a gradual, but deep, change in me.
What are you listening to these days and what are you working on right now?
on pretty constant rotation the past week or two has been a live recording by neil halstead, called the fuel/friends chapel session. recorded in colorado. among the 4 songs he does a cover of damian jurado's "ohio".. which is like brillance meets brilliance. it almost made a black hole when i first played it. i'm also late to the party on a couple of past year favorites including a winged victory for the sullen.. and the debut burial album. great, creative works.
i've been really busy musically. i just finished one of two works that i'm doing for a sound/art show in uno, japan alongside david sylvian and the japanese photographer nobuyoshi araki. david asked me to take part in this and it was quite an honor. i have a 20 minute piece of music that will be available to rent or buy on a playbutton™ for attendees of the art events and they will listen to my music as they walk around the town and see the works on display. there's a 2nd part to the overall project for another piece of music to be included in a book with david and araki as well. i need to do that in the next couple of months.
cameron webb, from seaworthy, was here for a few days the other week and we wrote a very spontaneous and natural album that was really about our experiences over a couple of days outdoors in the winter forests near my house. cold outside, warm inside. the music is stripped down revealing. it's all acoustic except for one synth line from a jupiter 8 (analog) synth. that project, called "wood, winter, hollow" will be released on CD alongside my album with ryuichi sakamoto around may. the collaboration with sakamoto started during our rehearsals for our concerts in new york last year and we've been working on it since. we're playing together again in japa
n in july and will debut the CD there.
i'm not quite sure about releasing two collaborations of mine at the same time on the label, but they just sort of fell that way and i'm still waiting on a couple of artists to finish their albums, so there's a hole in the release schedule to fill.
at some point this summer stephen vitiello and i will finish the work we started at the robert rauschenberg residency in florida last december. with a CD release on 12k later this year or early next year. it's really the year of collaborations for me. i've been lucky to work with all of these artists i love who have pushed me in all sorts of new creative directions. that's what collaborating is all about to me.