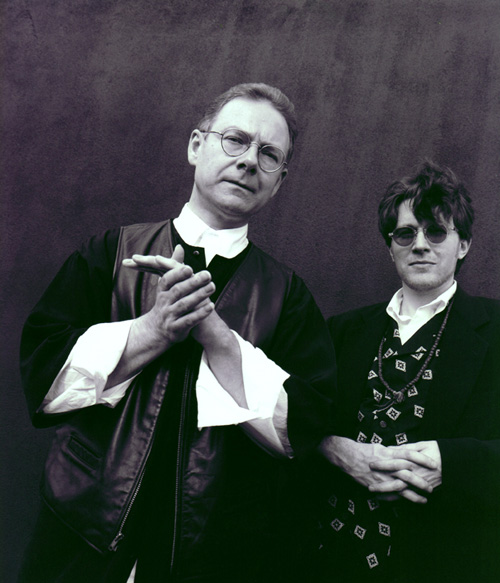 Published at September 1, 1993
SYLVIAN / FRIPP by Steve Holtje (Creem Magazine September '93)

"There is no one structure which is universally appropriate," wrote Robert Fripp in the liner notes to his 1981 album, Let the Power Fall. That bit of wisdom goes a long way towards explaining the far-ranging careers of both Fripp and David Sylvian. Both are respected musicians whose reputations were made with innovative British bands (King Crimson and Japan, respectively) and who both favor collaborations to get their creative juices flowing. It's no surprise that they've just produced an excellent new album together.
Fripp played on Sylvian's 1986 album, Gone to Earth, and at the time and continuing subsequently, the two discussed working together on a more equal basis. Yet it wasn't until Sylvian was offered a low-key tour of Japan in the beginning of 1992 that the pair, with stick player Trey Gunn, started writing material to be performed together. An Italian tour with the same material followed, and they began laying down tracks–with drummer Jerry Marotta and percussionist Marc Anderson–at the end of the year to preserve for posterity the compatibility they'd fostered.
"The record came out rather more loud than if I had been working by myself," Sylvian admits, "which is quite exciting in a way. Despite the fact that we only used a few of the songs from the tour, it reflects the intensity of the way we sounded."
The First Day (Virgin) certainly does contain the hardest, loudest work Sylvian has done in a long time, but it also includes sections of dream-like Frippertronics that reflect not only Fripp's input but also Sylvian's main inclinations in his solo work. Even if there's nothing likely to be a radio hit, nearly every track is a highlight. "God's Monkey" has a slippery opening riff with funky rhythm guitar and sparsely syncopated bass and drums. "Jean the Birdman", the most Sylvianesque track, tells an elusive story with an uneasy musical edge underpinning. "Firepower" is a Crimsonesque power-chord juggernaut featuring a Fripp solo in his trademark buzzing, sustained tone. "Brightness Falls" is the hardest-rocking and most conventional track on the album, keyed to a blasting riff similar to Hendrix's "Foxy Lady". "Darshan (The Road to Graceland)" has a hip-hop beat throughout, with brutal bursts of guitar contrasted with th! e steady beat and underlying synth. Sylvian harmonizes with himself on a seemingly paranoid series of admonitions. The result is the record's most sinister track. The closing instrumental "Bringing Down the Light" is a long, lulling ambient track of cool, rich beauty that relieves the tension of the previous number.
David Sylvian is polite but tense. Though his more famous partner is by reputation unwilling to settle for half-measures, Sylvian is the control freak, not Fripp. The bespectacled guitarist's high degree of discipline has actually been cultivated to allow him to function in situations he doesn't control. Says Sylvian, "Robert was forever telling me that a track was fine, it's finished, when my normal inclination would be to spend more time fixing bits I was unsatisfied with. He prefers to work with accidents, which I find quite nerve wracking."
Robert Fripp is, in fact, a complete gentleman, incredibly articulate, choosing his words carefully and speaking deliberately. He's not at all afraid of leaving long gaps of silence in the conversation and yet not overly intellectual. He has thought carefully about matters, but his conclusions are usually based on a fine balance of the physical and the mental. "That is precisely what makes music as powerful as it is, the fact that it physically affects the listener. Certainly some music aims for the groin instead of the head, but the best music finds the middle by aiming for the heart."
Perhaps Sylvian is the ideal vocalist Fripp has never really found, despite all the talented people he has worked with. "Because of the nature of the music King Crimson plays, it's never been able to have a singer who just sings. They've all had to play an instrument, otherwise they'd spend a lot of time standing around doing nothing." Sylvian, although a capable guitarist / keyboardist, has always been a singer first and is certainly the most expressive lyricist Fripp has ever worked with.
The First Day is supposedly merely the first of a series of Sylvian / Fripp collaborations. Already there is a world tour planned for the end of the year, starting in Japan in October and ending in London in December. Naturally, North America and Europe will be blessed with this showcase of near-telepathic compatibility.