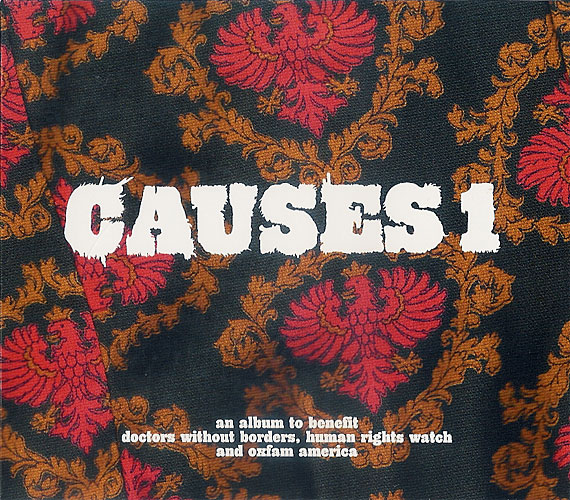 Released at September 3, 2007
Benefit compilation from Waxploitation
Waxploitation established the Causes album series to benefit the work of Doctors Without Borders, Human Rights Watch and Oxfam America. Principally their efforts in Darfur.
Although estimates of the number of people killed by the conflict in Darfur vary widely from 200,000 to 400,000, what is certain is that more than 2 million people have fled their homes because of the fighting, and 4 million are in dire need of humanitarian assistance. It is widely accepted that this one of the worst crises in the world today.
Causes 1 was produced by Jeff Antebi and Brent Mullins with assistance from Jolene Chavez.
Causes 1 is mastered by Kelly Hibbert
Packed in a beautiful 6-panel digipack with artwork from Jacob Escobedo.
Tracklist:
Animal Collective – safer (exclusive live version)
Black Keys – stay all night (exclusive chulahoma Session)
Bloc Party – rhododendrons
Bright Eyes – coat check dream song (exclusive live version)
Cornelius – wataridori (exclusive piano version)
David Sylvian – late night shopping (chris vrenna remix)
Death Cab For Cutie – world shut your mouth (julian cope cover)
(International) Noise Conspiracy – washington bullets
The Cure – the walk (exclusive live version)
The Shins – turn on me (exclusive clint mansell remix)
Spoon – rhthm & soul (exclusive Middle Version)
Teargas & Plateglass – one day across the valley
Thievery Corporation – passing the stars
Travis – gimme some truth (exclusive john lennon cover)
Although the tracklist on the digipack mentions that the track is called Late Night Shopping (exclusive Chris Vrenna remix), it is the very same as the b-side of the Skool Daze single.
Gallery
Tracklist