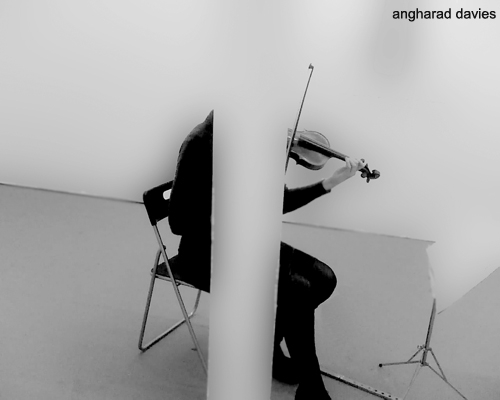 Angharad Davies has mentioned on her website that last month (7th – 13th December 2015) she and an interesting array of musicians were recording with David Sylvian. Skogen is the name of the group – including Toshimaru Nakamura who appeared on Manafon.  
See: angharaddavies.com
December/Rhagfyr
7 – 13 .12.15 Skogen
Recording with David Sylvian 
Angharad Davies + Anna Lindal, violin
Leo Svensson Sander, cello; Magnus Granberg, piano;
Rhodri Davies, harpa; John Eriksson, vibrafon;
Henrik Olsson, percussion + glass; Erik Carlsson, percussion 
Petter Wastberg, elektronik och objekt 
Toshimaru Nakamura, no-input mixing board
Angharad Davies is a violinist, one at ease in both improvising and composition, with a wide discography as part of varied range of ensembles and groups. She's a specialist in the art of 'preparing' her violin, adding objects or materials to it to extend its sound making properties. Her sensitivity to the sonic possibilities of musical situations and attentiveness to their shape and direction make her one of contemporary music's most fascinating figures. 2015 has seen her being commissioned for a new work at the Counterflows Festival, Glasgow and premiering Eliane Radigue's new solo for violin, Occam XXII at the El Nicho Festival, Mexico. 
She's performed at, the Queen Elizabeth Hall, BBC Proms, Music We'd Like to Hear's concert series, is an associate artist at Cafe Oto, is a member of Apartment House, Cranc and Common Objects, been artist in residence at Q-02 , and played live with Tony Conrad in the Turbine Room at the Tate Modern.Other collaborations have featured the likes of John Butcher, Daniela Cascella, Rhodri Davies, Julia Eckhardt , Kazuko Hohki, Roberta Jean, Lina Lapelyte, Dominic Lash, Tisha Mukarji, Andrea Neumann, Rie Nakajima, Tim Parkinson, J.G.Thirlwell, Stefan Thut, Paul Whitty, Manfred Werder, Birgit Ulher, Taku Unami and she's released records on Absinth Records, Another Timbre, Potlatch and Confrontrecords.
This news was provided by silentwings on japansylvian.com
To get an impression f her work, take a look at this video.