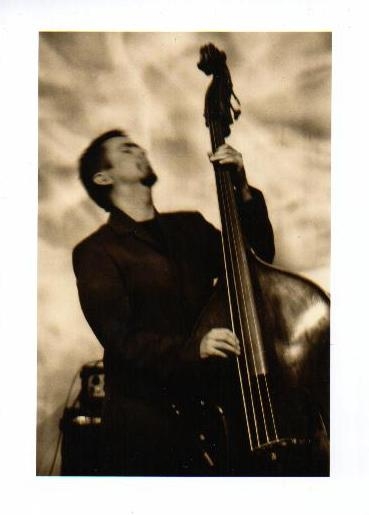 Published at August 15, 2014
The man in kilt.
Keith from Seattle, performed with David Sylvian, Steve Jansen, Matt Cooper and Timothy Young in the Everything and Nothing tour (2001 and 2002).
From his own site moonliner.com:
I'm an electric and acoustic bass player from Seattle Washington. I count myself very fortunate in life due to the fact that I am able to make a living (albeit a humble one) doing what I love. Along the way, I have been blessed to play with some extremely talented people including Wayne Horvitz, Robin Holcomb, Bill Frisell, David Sylvian, Fiona Apple, Mount Analog, Skerik, Eyvind Kang, Russell Mills., Zubot and Dawson, Jim Byrnes, Kelly Joe Phelps, Scott Amendola, Jessica Lurie, Duffy Bishop, Shawn Smith, David Lanz, and a ton of other fine folks!
From allmusic.com:
With their precisely executed, angular, twisting keyboard/guitar riffs and their locked-up groove-oriented bass/drums beats, the instrumental quartet that is Zony Mash has created a signature sound which is both technical and fun. Established in 1997 by veteran composer, pianist, and keyboardist Wayne Horvitz, their debut album, Cold Spell, put this Seattle-based group on the map alongside other jazz-funk groups such as Medeski, Martin & Wood. Horvitz, a man who had worked with the likes of John Zorn, would now focus his energies on a more accessible sound. Guitarist Timothy Young would bring a bluesy/rock tone to the band, while Fred Chalenor (bass) and Andy Roth (drums) would anchor the rhythm section. In 1998, the group released their sophomore album, Brand Spankin' New, which featured even tighter performances, as well as a slicker production by their longtime engineer Tucker Martine. In 2000, the group put out two very different full-length albums. Upper Egypt consisted of the traditional Zony Mash sound with Keith Lowe replacing Fred Chalenor on bass guitar, while American Bandstand featured a stripped-down acoustic version of Zony Mash drawing attention to Horvitz's unique compositions.
His latest Sylvian-related contribution is on the Nine Horses album Snow Borne Sorrow.
Gallery